DePauw Men Improve to 4-1 with Fourth Straight Win
November 28, 2012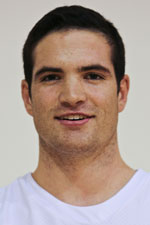 Richmond, Ind. - Four Tigers scored in double figures as DePauw improved to 4-1 following a 77-65 win at Earlham. The win was also the Tigers' fourth straight and dropped the Quakers' mark to 1-5.
Earlham quickly took a 7-0 lead in the opening three minutes, but DePauw scored the next five and eventually knotted the score at 25-25. Connor Rich's three-pointer briefly gave the Tigers a 28-27, but the hosts went to the break with a 34-33 advantage.
Barry Flynn (pictured) knocked in a jumper and Michael Wilkison a three to start the second half and give the Tigers a 38-34 lead. That margin reached eight at 56-48 after Wilkison connected from three-point range and Pat Haggin added a layup with 8:06 remaining
Earlham's Jack O'Flaherty hit a three with 5:35 left to close the DePauw lead to 58-57, but Rich nailed three-pointers on back-to-back possessions to push the margin back to seven. The Quakers closed the gap to two on Dustin Rusk's three and Tyler Lewers' layin, but Flynn countered with a basket to give the Tigers a 66-62 advantage with 1:45 remaining.
Earlham turned the ball over on its next possession before Adam Botts and Rich combined to hit 12 of 13 from the line in the final 1:07 to put the game away.
Botts finished with a career-best 17 points, while Wilkison added 16. Flynn posted his sixth career double-double with 15 points and a career-high equaling 14 rebounds. He also matched career bests with four assists and three blocks. Rich chipped in 15 as well.
O'Flaherty paced Earlham with 17 points followed by Lewers with 14 and Kristian Barden with 12 and a team-best eight rebounds.
DePauw shot 47.2 percent from the floor including 50 percent in the second half, while the Quakers hit 48.9 percent. The Tigers held a 35-26 edge on the boards.
The Tigers open North Coast Athletic Conference play on Saturday, December 1, when they host Kenyon at 3 p.m.
For more information on the DePauw men's basketball program, follow DePauw on Twitter (@DePauwAthletics / @DePauw_MBB) or like them on Facebook (www.facebook.com/DePauwAthletics).
Back