15-0 Start for Top-ranked DePauw Women after Win at Wooster
January 12, 2013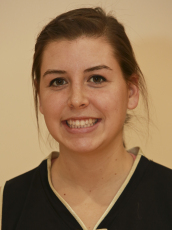 Wooster, Ohio - Sophomore Emma Ondik (pictured) hit all four three-pointers she attempted and finished with a career-high 16 points off the bench as top-ranked DePauw topped Wooster, 87-46, in a North Coast Athletic Conference contest at Timken Gymnasium.
DePauw improved to 15-0 overall and 6-0 in the NCAC, while the Fighting Scots dropped to 6-9 overall and 1-5 in conference play. The win was DePauw's 40th straight regular season victory.
The Tigers scored the game's first eight points and quickly expanded the margin to 15 at 19-4 just 6:45 into the contest. Wooster briefly closed the gap to 12 before DePauw put together a 17-5 stretch to expand the lead to 36-12. The Tigers took a 46-21 advantage into the break.
After shooting 52 percent in the first half, the Tigers improved upon that with 60.7 percent over the final 20 minutes including a 7-of-8 performance from beyond the arc.
Ondik led all scorers with 16 and hit all five field goal tries and both free throw attempts. Savannah Trees chipped in 12 and was perfect on three field goal tries and all four free throws, while Ali Ross added a season-high 11 and had five steals. Ondik and Kate Walker each dished out three assists and Alison Stephens grabbed eight rebounds as the Tigers held a 31-29 edge on the boards.
Jessica Wingen paced Wooster with 15 points and eight rebounds.
The Tigers put together their top shooting game of the season after connecting on 56.6 percent from the floor and 75 percent (12-16) from three-point range. The Tigers also nailed 15 of 16 free throws in the win.
Wooster shot 36 percent from the floor and committed 21 turnovers to the Tigers' 13.
DePauw returns to NCAC action on Wednesday, January 16, when it hosts Denison at 6 p.m.
For more information on the DePauw women's basketball program, follow DePauw on Twitter (@DePauwAthletics / @DePauw_WBB) or like them on Facebook (www.facebook.com/DePauwAthletics).
Back