DePauw Stays Perfect with NCAC Win over Denison
January 16, 2013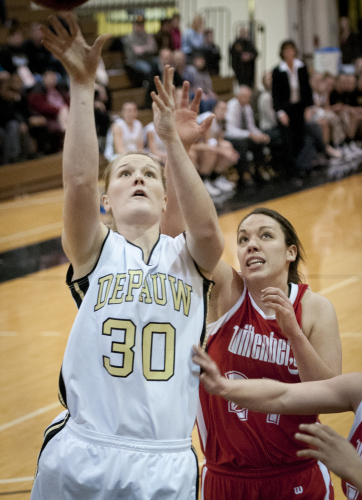 Greencastle, Ind. - Number-one DePauw, the leading three-point shooting team in Division III, knocked down eight of 16 from beyond the arc and shot just under 54 percent from the floor on the way to an 85-48 North Coast Athletic Conference win over visiting Denison at he Neal Fieldhouse.
The Tigers improved to 16-0 overall and 7-0 in the NCAC with their 41st straight regular season win and 75th consecutive home conference win. The Big Red dropped to 8-8 overall and 3-4 in conference play.
DePauw scored the game's first six points, but Denison stayed close and trimmed the gap to 15-13. The Tigers scored the next eight capped by Alex Gasaway's jumper with 7:05 left which made it 23-13.
A 9-0 DePauw run later in the half extended the hosts' lead to 34-17 on the way to a 41-22 halftime advantage.
The Tigers put the game away in the opening two minutes of the second half as they scored nine straight to push the lead to 50-22. The Big Red got as close as 26 the rest of the way, while DePauw led by as many as 38.
Gasaway (pictured) paced DePauw with 18 points, while Ellie Pearson added 10 points, a game-high eight rebounds and four steals. Ali Ross dished out a career-high six assists in the win.
Mary Margaret Habel led Denison with 13 points and four rebounds with Serafina Nuzzo chipping in 11 points.
The Tigers hit 53.8 percent of their field goal tries and outrebounded the Big Red, 34-23 and committed just 10 turnovers.
Denison shot 42.9 percent from the field and turned the ball over 23 times which led to 35 DePauw points. The Tigers also turned 14 offensive rebounds into a 13-0 advantage in second-chance points.
DePauw travels to Oberlin on Saturday for a 1 p.m. game, while Denison travels to Allegheny.
For more information on the DePauw women's basketball program, follow DePauw on Twitter (@DePauwAthletics / @DePauw_WBB) or like them on Facebook (www.facebook.com/DePauwAthletics).
Back