DePauw Picks Up Sixth Win in Last Eight Contests
January 16, 2013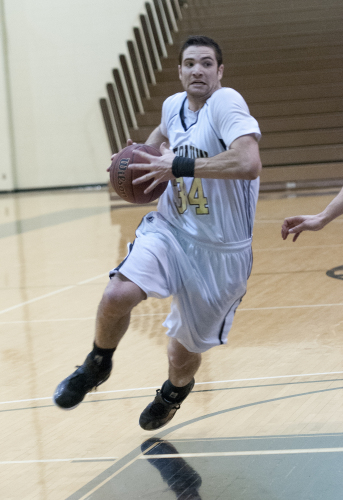 Greencastle, Ind. - An 11-2 second-half run gave DePauw some breathing room and the Tigers wrapped it up with clutch free throw shooting in the closing minutes for a 79-65 North Coast Athletic Conference win over visiting Denison at the Neal Fieldhouse.
DePauw improved to 10-6 overall and 3-4 in the NCAC, while the Big Red slipped to 4-12 overall and 2-5 in conference play.
The first half was a tight battle with Denison pulling ahead by five, but DePauw came right back with five straight to knot the contest at 12-12. The Tigers gained as much as a four-point advantage at 21-17 on Michael Wilkison's three-pointer, Denison came right back and held a 29-27 lead on a pair of Dimonde Hale free throws with 1:39 remaining.
DePauw took momentum into the locker room as Connor Rich knocked down a three and Alex Payne scored on a layup to give DePauw a 32-29 lead at the break. The first half included six ties and nine lead changes.
With the score tied 37-37 early in the second half, Barry Flynn (pictured) scored on back-to-back possessions before Michael Wilkison dropped in a pair of free throws which gave the Tigers a 43-37 lead.
Denison's DJ Bridges stopped the run with a steal and dunk, but Flynn hit two more from the charity stripe and knocked down a jumper to push the Tigers' lead to 47-39 with 14:04 remaining.
The Big Red were still within seven before Pat Haggin, Jeff Sustarsic and Payne scored on the next three trips down the court to extend the lead to 54-41. Denison cut DePauw's lead to 63-58 after Alex Longi's three-point play with 3:51 left, but Rich answered with a three to make it an eight-point game.
That margin reached 10 when Rich nailed a jumper with 1:46 left. Hale missed a pair of free throws on Denison's next possession and the Tigers proceeded to knock down their next 11 free throws to preserve the victory.
Flynn led all scorers with 23 points and grabbed a team-high eight rebounds. The senior hit nine of 11 from the floor. Wilkison added 16 points with Rich chipping in 13 and Adam Botts 10. Wilkison dished out a team-high four assists.
Longi paced Denison with 21 points, while Hale added 15 and nine rebounds and Jon Akpapunam scored 11.
The Tigers hit 55.3 percent from the field including 65 percent in the second half and nailed nine of 20 from beyond the arc, while committing just nine turnovers. Denison connected on 44.1 percent from the floor, but made just four of its 17 three-point attempts.
DePauw travels to Oberlin on Saturday for a 3 p.m. contest, while Denison goes to Allegheny.
For more information on the DePauw men's basketball program, follow DePauw on Twitter (@DePauwAthletics / @DePauw_MBB) or like them on Facebook (www.facebook.com/DePauwAthletics).
Back