Top-ranked Tigers Post 12th Straight 20-Win Season
January 29, 2013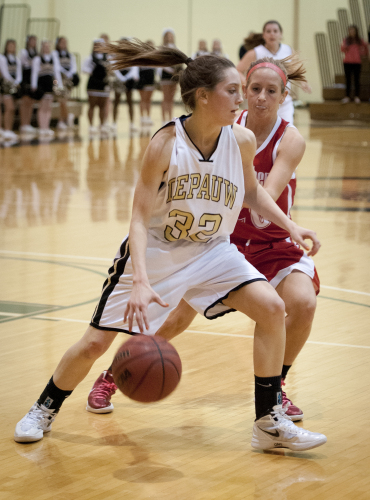 Gambier, Ohio - Number-one DePauw scored the first eight points of the second half to extend a six-point halftime lead to 14 and the margin stayed in double figures the rest of the way as the Tigers topped Kenyon by a 77-57 score in North Coast Athletic Conference action.
DePauw improved to 20-0 overall and 11-0 in NCAC play, while the Ladies dropped to 14-6 overall and 8-3 in conference play. The Tigers extended their regular season win streak to 45 and notched their 12th straight 20-win season and 16th in the last 17 years.
The Tigers held an early five-point lead before Kenyon scored six straight to take its second lead of the game which marked the first time since December 29 that DePauw trailed in a game.
Ellie Pearson sank two free throws before Ali Ross (pictured) knocked down a three and Kathleen Molloy hit a jumper to cap a 7-0 to give DePauw a 15-9 advantage. The first-half lead reached as many as 10 on Alison Stephens' bucket with just under five minutes remaining. The Tigers went to the break with a 35-29 advantage.
Pearson started the second-half scoring before Alex Gasaway converted a three-point play and Ross nailed a three to make it 43-29 with 18:10 left. Kenyon made one free throw on its next possession before Savannah Trees pushed the lead to 16 on a trey.
The Ladies trimmed the DePauw lead to 11 at 59-48 on Maureen Hirt's two free throws with 5:51 remaining, but Trees responded with a three and Ross added a layup to extend the margin to 64-48.
Ross paced DePauw with a season-high 17, while Gasaway added 15 and Trees 12. Pearson hauled down eight rebounds as the Tigers held a 42-25 edge on the boards. Kate Walker dished out a team-high four assists.
Hirt led Kenyon with 26 points and six rebounds with Maggie Boelter handing out four assists.
DePauw connected on 43.1 percent from the floor to Kenyon's 38.0 percent, but the Tigers, who entered with the nation's top three-point percentage, hit 8-18 from beyond the arc.
The Tigers travel to Allegheny on Friday, February 1, for a 6 p.m. contest against the Gators.
For more information on the DePauw women's basketball program, follow DePauw on Twitter (@DePauwAthletics / @DePauw_WBB) or like them on Facebook (www.facebook.com/DePauwAthletics).
Back