Number-one DePauw Improves to 21-0 and Clinches Share of NCAC Title
February 1, 2013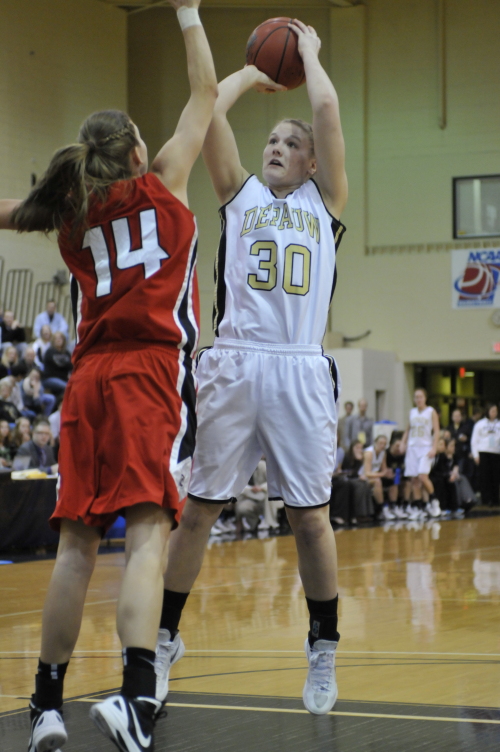 Meadville, Pa. - Top-ranked DePauw shot 54.2 percent in the first half and led by 19 at the break on the way to a 67-36 North Coast Athletic Conference win at Allegheny.
The Tigers improved to 21-0 overall and 12-0 in the NCAC, while the Gators dropped to 11-9 overall and 6-5 in conference play.
DePauw also extended its regular season win streak to 46, its conference game win string to 36 consecutive and its streak of road wins to 18.
The DePauw win, coupled with Kenyon' loss to Denison, gave DePauw a share of its second straight NCAC title and the number-one seed in the conference tournament.
Alex Gasaway (pictured) and Ellie Pearson got the Tigers off to a 4-0 start after the game's first two possessions. The Gators countered with a bucket before DePauw rattled off 12 straight to take a 16-2 lead with 14:26 left in the first half.
That lead stayed in double digits the rest of the game as the Tigers led by as many as 21 in the first half on the way to a 39-20 halftime lead. DePauw scored the first nine points of the second half and its lead never dipped below 24 the rest of the game.
Gasaway paced the Tigers with a double-double of 14 points and 12 rebounds, while Savannah Trees also added 14 and Pearson scored 10. Kate Walker and Emma Ondik each dished out four assists.
Ann Ryan led Allegheny with 10 points with Rachel Vigilotti pacing the Gators with seven rebounds.
DePauw shot 45.1 percent from the field to Allegheny's 28.6 percent while the Gators failed on all 16 three-point attempts and didn't attempt a single free throw.
The Tigers travel to Hiram for a 2 p.m. NCAC contest tomorrow.
For more information on the DePauw women's basketball program, follow DePauw on Twitter (@DePauwAthletics / @DePauw_WBB) or like them on Facebook (www.facebook.com/DePauwAthletics).
Back