Top-rated Tigers Claim Outright NCAC Title: Seniors Post 100th Win
February 2, 2013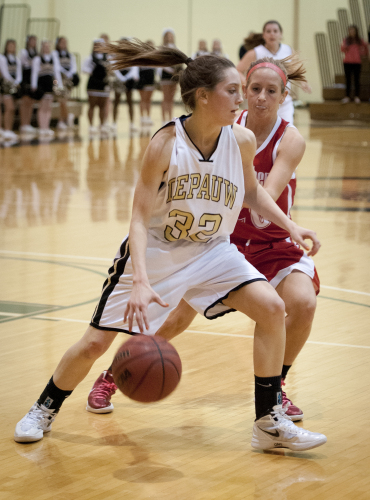 Hiram, Ohio - Top-ranked DePauw clinched its second straight outright North Coast Athletic Conference title and its fourth consecutive conference title overall following a 91-46 win at Hiram.
The Tigers improved to 22-0 overall and 13-0 in NCAC play, while Hiram dropped to 8-14 overall and 3-10 in conference play. DePauw and Hope College entered the season as the only Division III women's programs with at least 22 wins in 11 straight seasons and the Tigers now are the first to win 22 in each of the last 12.
It was another quick start for the Old Gold as they scored the game's first 10 points in the opening 2:11. Hiram, however, put together an 8-2 run to trim the DePauw advantage to 18-15 with 11:37 left in the half.
That would be as close as the Terriers would get as DePauw rattled off 14 straight points to extend the margin to 17 on the way to a 43-24 halftime lead.
Hiram opened the second half with a bucket, but the Tigers scored the next 10 to push the lead to 27 in the opening two minutes of the second half. DePauw later ran off 15 consecutive points to seal the victory.
Ali Ross led DePauw with 18 points, while Alex Gasaway followed with 17 including 15 in the first half. Ellie Pearson grabbed a game-high 11 rebounds as the Tigers held a 43-27 edge on the boards and a 23-3 advantage in second-chance points.
Kate Walker matched a season high with eight assists and didn't commit a turnover, while Gasaway registered a career-best seven steals. DePauw totaled just eight turnovers to the Terriers' 23 and outscored Hiram, 26-3, in points off of turnovers.
Christy Griffin paced Hiram with nine points and shared rebounding honors with Danielle Day as each grabbed six.
DePauw shot 49.3 percent from the floor and Hiram connected on 37.5 percent.
The victory also marked the 100th against just 10 losses for seniors Walker, Pearson and Kathleen Molloy. They are the eighth straight senior class to reach the century mark in victories.
The Tigers return to action on Saturday, February 9, when they host Oberlin at 1 p.m.
For more information on the DePauw women's basketball program, follow DePauw on Twitter (@DePauwAthletics / @DePauw_WBB) or like them on Facebook (www.facebook.com/DePauwAthletics).
Back