DePauw Women Place Third at NCAC Championships; More Records Fall
February 16, 2013
NCAC Site| Day 1 Recap | Day 2 Recap | Day 3 Recap

Canton, Ohio - DePauw's women wrapped up competition at the North Coast Athletic Conference Swimming and Diving Championships with a third-place showing after totaling 904.5 points. Denison won the team title with 1,654 and Kenyon totaled 1,604.5 and Wooster was fourth with 792.
Caroline Bridges (pictured) was third in the 100-yard freestyle in an NCAC "B" time of 51.67 seconds which also broke the school record she set in the prelims.
Allison Kirby placed fifth in the 200 breaststroke (2:26.03), while Emily Weber was sixth in the 1,650 free (17:21.02) which was a "B" cut and school-record time as well.
Nicole Rossillo was eighth in the 100 free (53.06), while Erin Horne was 14th (53.48) and Annaleise Dehnke 16th (55.21).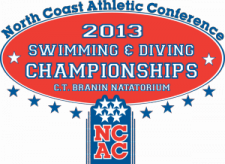 Bre Jennings was 10th in the 200 breast (2:29.20) with Kat Devillebichot placing 15th (2:32.20). In the 200 back, Reese Edwards was 14th (2:10.11) and Emma Haynes 15th (2:10.78). Maddie Hochwalt finished 15th in the 200 butterfly (2:19.46) with Morgan Graves in 16th (2:19.65).
DePauw's 400 free relay of Bridges, Rossillo, Weber and Horne ended the meet in third in a school record and NCAC "B" time of 3:30.28.
For more information on the DePauw women's swimming and diving program, follow DePauw on Twitter (@DePauwAthletics / @DePauwWswim) or like them on Facebook (www.facebook.com/DePauwAthletics).
Back