Top-ranked DePauw Advances to NCAA Second Round with Win over La Roche
March 1, 2013
Tournament Site | DePauw-La Roche box | Maryville-Otterbein box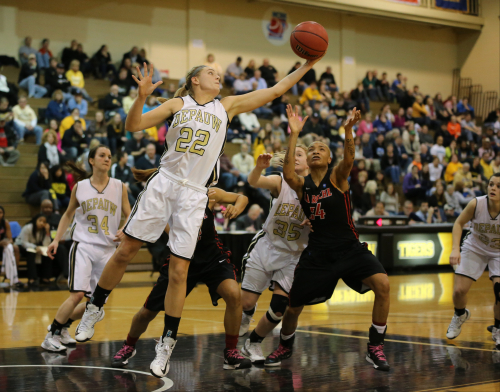 Greencastle, Ind. - Number-one DePauw got off to a slow start, but very quickly took control of the contest and came away with a 73-43 win over La Roche (24-3) in an NCAA Division III Women's Basketball Championship First Round Game at the Neal Fieldhouse.
With the victory, DePauw improved to 29-0 with its school-record 29th straight victory and advanced to Saturday's 7 p.m. second-round game against Maryville (Tenn.). Maryville topped Otterbein, 68-61 in the evening's first game.
The Tigers scored on their first possession as Kate Walker drove the lane with authority, but the hosts missed on their next 13 tries from the field as the Redhawks gained a 6-3 lead.
Trailing 8-5, DePauw scored the next seven to jump start a 21-5 stretch which pushed the lead to 26-13. The Tigers went to the break with a 31-17 advantage.
An 11-0 run over the opening 4:20 of the second half extended the lead to 42-17 and the margin never dipped below 20 the rest of the way.
Ellie Pearson recorded her 11th career double-double as she scored 10 and grabbed a career-high 19 rebounds including eight on the offensive glass. Ali Ross led the way with 13 points followed by Lauren Abendroth with a season-high 12 and Savannah Trees with 10.
Jessica Pitts led the way for La Roche with 13 points, six boards and four assists with Shataya White chipping in 11 points.
DePauw shot 42.9 percent from the field including 51.9 percent in the second half, while La Roche hit just 31.5 percent after connecting on only 23.3 percent in the first 20 minutes.
The Tigers held a commanding 48-26 rebounding edge which matched their best effort in NCAA postseason play.
For more information on the DePauw women's basketball program, follow DePauw on Twitter (@DePauwAthletics / @DePauw_WBB) or like them on Facebook (www.facebook.com/DePauwAthletics).
Back