DePauw Women One Win Away from National Championship
March 15, 2013
Box Score | Postgame press conference | Host site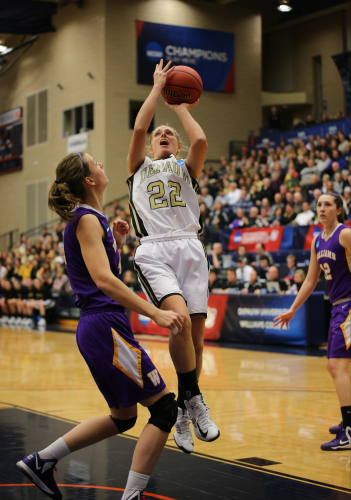 Holland, Mich. - DePauw's women advanced to the NCAA Division III Championship game for the second time in seven years after defeating Williams, 59-56, in a hard-fought national semifinal at DeVos Fieldhouse.
The Tigers improved to 33-0 and tied the Division III record for victories in a season, while Williams dropped to 25-7.
DePauw will face Wisconsin-Whitewater in tomorrow night's national title game after the Warhawks defeated Amherst, 64-62, in overtime in the first semifinal game.
DePauw scored the game's first five points, but Williams scored nine of the next 11 and a tight battle ensued. The teams fought back and forth through much of the first half before Williams gained some separation with a 25-17 lead with just under three minutes left in the first half. The eight-point margin was the largest the Tigers faced all season.
However, it was a 66-second stretch late in the first half that may have been the difference in the contest. DePauw's Ellie Pearson knocked in a jumper with 1:57 left to cut the lead to six and the Ephs turned the ball over on their next possession, causing Williams coach Pat Manning to take a timeout.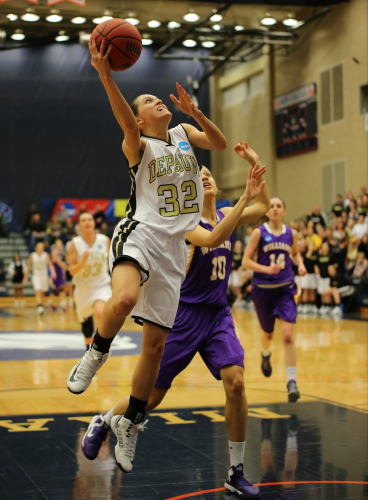 Pearson closed the gap to four out of the timeout before Alison Stephens' steal led to a Savannah Trees layup. Trees then had a steal and fast break layup to even the score at 25-25 with 51 seconds left.
Williams' Ellen Cook nailed a three before Kate Walker ended the half with a driving layup. The Ephs held a 28-27 halftime lead and that marked just the second time all season that DePauw trailed at the half.
The intense play continued in the early portion of the second half with six ties and a couple of lead changes before Grace Rehnquist hit a trey to give the Ephs a 41-38 advantage. Trees came right back with a jumper before Pearson's steal led to an Emma Ondik three that gave DePauw the lead. Ali Ross' three-pointer with 8:44 left pushed DePauw's lead to 46-41 and capped an 8-0 run.
Jennie Harding and Danny Rainer stopped the run with jumpers, but Alex Gasaway responded with a pull-up jumper on the right baseline. Neither team scored for a two-minute stretch before Ross made a pair of free throws and Ross knocked in a trey to give DePauw a 53-45 lead with 4:14 left.
Williams was within four at 56-52 when Claire Baecher knocked in a three-pointer with 35 seconds remaining, but Trees made a pair of charity tosses with 32 seconds left.
Cook's bucket with 17 seconds left trimmed the lead back to four, but Walker hit one-of-two free throws to make it a five-point game. Harding's shot with three seconds remaining made the final margin.
"Credit to Williams and their defensive ability to change our comfort on the offensive end," DePauw head coach Kris Huffman said. "There length really played a factor."
Pearson, who netted a career-high 21 last Saturday to get the Tigers to Holland, posted her second highest total of the season with 15 points. She added a game-high nine rebounds with four steals and two blocks. Trees followed with 14 points with Ross adding 13.
The Ephs lead Division III with eight blocks per game and swatted away six DePauw first-half attempts and three more over the final 20 minutes as Rainer and Baecher each had four.
Cook paced Williams with 12 points and eight rebounds with Harding chipping in 11 points and Rainer 10.
'DePauw's a great team and we held them to 34 percent shooting," Williams coach Pat Manning said. "We made them work for every shot they got. They stayed composed and hit big shots, but we made them work for everything."
The Tigers hit just 34.9 percent to the Ephs' 46.2 percent, but outscored Williams, 12-2, from the free throw line. DePauw also held a 37-35 edge on the boards, committed just five turnovers and held a 20-4 advantage in points off of turnovers.
For more information on the DePauw women's basketball program, follow DePauw on Twitter (@DePauwAthletics / @DePauw_WBB) or like them on Facebook (www.facebook.com/DePauwAthletics).
Back