Celebration for DePauw Champions Draws Crowd, Media Coverage
April 5, 2013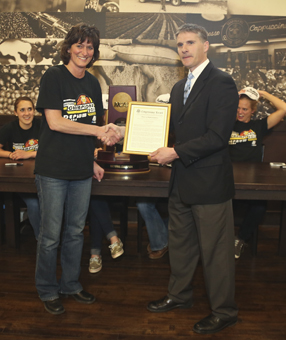 "Dozens of Greencastle and DePauw University community members came out Thursday evening to honor the 2013 NCAA Division III women's basketball champion DePauw Tigers at a public celebration at Eli's Books/Starbucks," notes the Banner-Graphic today. The Greencastle newspaper provides a few photos from last night's event, which included a presentation by an aide to U.S. Representative Todd Rokita. The congressman had the achievements of the 34-0 Tigers noted in the Congressional Record, and Mark Doud presented DePauw head women's basketball coach Kris Huffman with a framed copy of Rokita's entry.
Team members signed autographs for members of the campus and community. Fans received a free poster of this year's championship team.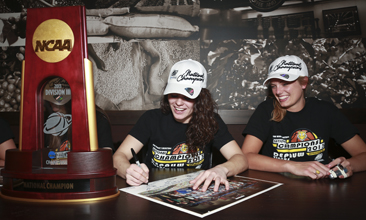 DePauw won its second national title on March 16 with a 69-51 victory over Wisconsin-Whitewater in the NCAA Division III national championship game, closing out a perfect 34-0 season. DePauw became the only team in NCAA Division III women's basketball history to win 34 games in a season.
Indianapolis CBS affiliate WISH-TV included several photos from the event on its late newscast last night. The brief segment, presented by Eric Halvorson, is embedded below. The station also offers a photo gallery.
Back