Paige Gooch's Medalist Performance Leads Sixth-ranked Tigers to Runner-up Finish at Washington University Invitational
April 7, 2013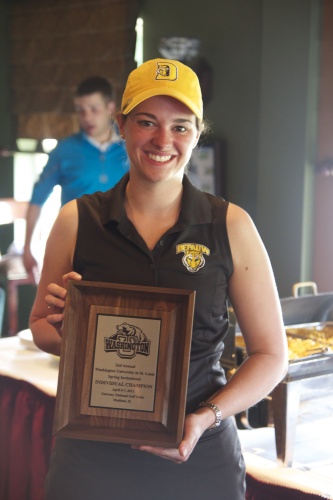 Madison, Ill. - Paced by Paige Gooch's medalist honors, sixth-ranked DePauw finished second among 20 schools at the Washington University Invitational at the Gateway National Golf Links.
The Tiger shot a 631, including today's 311, to finish eight strokes behind William Woods.
Gooch shot a 75 this afternoon and 153 for the tournament to win by one stroke over Myriam Hassan and Jodie Peacock of William Woods.
Abby Dickey finished fifth at 157, while Kelsey Smith tied for sixth with a 158. Jacqueline Carroll shot a 167 to tie for 33rd, while Camila Romero finished in a tie for 37th at 168.
The Tigers return to action on Thursday, April 11, in the Big Four Classic at Crooked Stick in Carmel.
For more information on the DePauw women's golf program, follow DePauw on Twitter (@DePauwAthletics / @DePauwGolfW) or like them on Facebook (www.facebook.com/DePauwAthletics).
Washington (Mo.) Spring Invitational
Gateway National Golf Club
Madison, Ill.
Dates: April 6-7, 2013
Par 72, 5865 yards  (20 teams, 114 players)

William Woods................. 314 309   623   +47      1st
Hassan, Myriam................  76  78   154   +10   t- 2nd
Peacock, Jodie................  76  78   154   +10   t- 2nd
Palermo, Jamie................  80  78   158   +14   t- 6th
Ferrer, Alejandra.............  82  77   159   +15   t-11th
Johnson, Lindsey..............  83  76   159   +15   t-11th
Purvis, Joni#.................  79  84   163   +19   t-21st
Starr, Naomi#.................  84  80   164   +20   t-24th
Mielziner, Valarie#...........  92  79   171   +27   t-51st
Mongler, Alyson#..............  85  92   177   +33   t-71st
Floyd, Lacee#.................  94  89   183   +39   t-85th

DePauw........................ 320 311   631   +55      2nd
Gooch, Paige..................  78  75   153    +9      1st
Dickey, Abby..................  76  81   157   +13      5th
Smith, Kelsey.................  80  78   158   +14   t- 6th
Carroll, Jacqueline...........  90  77   167   +23   t-33rd
Romero, Camila................  86  82   168   +24   t-37th

Washington (Mo.).............. 328 308   636   +60      3rd
Buck, Hannah..................  81  77   158   +14   t- 6th
Hibbert, Andrea...............  83  75   158   +14   t- 6th
Zhou, Connie..................  79  79   158   +14   t- 6th
Walsh, Melanie#...............  79  82   161   +17   t-13th
Lugar, Olivia.................  85  77   162   +18   t-16th
Lawrence, Erin................  92  84   176   +32   t-68th
Chee, Allyson#................  91  90   181   +37   t-80th
Findlay, Mackenzie#........... 103 101   204   +60     104th

Birmingham-Southern........... 337 322   659   +83      4th
Toole, Kaleigh................  85  77   162   +18   t-16th
Dolmovich, Sarah..............  83  83   166   +22   t-27th
Lawley, Jesse.................  82  84   166   +22   t-27th
Morris, Michelle..............  87  80   167   +23   t-33rd
Chun, Ellen#..................  85  84   169   +25   t-41st
Struthers, Rachelle...........  87  82   169   +25   t-41st

Illinois Wesleyan............. 345 316   661   +85      5th
Kelly, Rose...................  87  75   162   +18   t-16th
Geraghty, Megan...............  85  81   166   +22   t-27th
Klosterman, Katie.............  90  76   166   +22   t-27th
Levens, Brittany..............  84  84   168   +24   t-37th
Seter, Amy#...................  84  84   168   +24   t-37th
Taphorn, Karson#..............  87  83   170   +26   t-48th
Schoch, Michelle..............  89  84   173   +29   t-59th

St. Olaf...................... 346 317   663   +87      6th
Linde Sundell.................  87  75   162   +18   t-16th
Molly Knutson.................  84  81   165   +21     26th
Molly Erickson................  87  80   167   +23   t-33rd
Maxine Carlson................  88  81   169   +25   t-41st
Nadia Baka....................  90  82   172   +28   t-56th
Grace Luker#..................  96  83   179   +35   t-76th

Wittenberg.................... 343 321   664   +88      7th
Wong, Carolyn.................  83  78   161   +17   t-13th
Smith, Maggie.................  91  76   167   +23   t-33rd
Lawwill, Allie................  83  86   169   +25   t-41st
Waers, Nicole.................  87  83   170   +26   t-48th
Mychalishyn, Deanna...........  90  84   174   +30   t-62nd

Olivet........................ 350 318   668   +92      8th
Theresa Damico................  81  80   161   +17   t-13th
Casey Lamp....................  92  71   163   +19   t-21st
Plourde, Adrienne.............  87  84   171   +27   t-51st
Brooke Kastamo................  92  83   175   +31   t-64th
Ashley Stark..................  90  86   176   +32   t-68th
Kirstin Langer#...............  92  97   189   +45     96th

St. Mary's (Ind.)............. 347 330   677  +101      9th
Janice Heffernan..............  83  81   164   +20   t-24th
Claire Boyle..................  89  80   169   +25   t-41st
Paige Pollak..................  87  82   169   +25   t-41st
Bown, Alexi...................  88  87   175   +31   t-64th

North Central (Ill.).......... 353 335   688  +112     10th
Rohn, Mary Kate...............  83  87   170   +26   t-48th
Miko, Marisa..................  96  77   173   +29   t-59th
Oberheide, Rachel.............  88  85   173   +29   t-59th
Dufour, Alayna................  89  86   175   +31   t-64th
Koenig, Kayla.................  93  88   181   +37   t-80th

Rhodes........................ 354 343   697  +121     11th
Cannon, Clarice...............  91  83   174   +30   t-62nd
Ritter, Jessica...............  92  83   175   +31   t-64th
Reed, Mary....................  85  91   176   +32   t-68th
Bankart, Allie................  88  89   177   +33   t-71st
Harris, Pearlissa.............  90  88   178   +34   t-73rd
Richard, Megan#............... 102  88   190   +46     97th

Carthage...................... 356 346   702  +126   t-12th
Meyer, Kayla..................  87  84   171   +27   t-51st
Holst, Erin...................  87  85   172   +28   t-56th
Klawitter, Julie..............  90  90   180   +36   t-78th
Muenchow, Holly#..............  92  90   182   +38   t-82nd
Dory, Taylor..................  92  91   183   +39   t-85th
Chronowski, Heidi.............  98  87   185   +41   t-88th

Marian (Ind.)................. 360 342   702  +126   t-12th
Dennis, Katie#................  83  83   166   +22   t-27th
Knight, Molly.................  91  77   168   +24   t-37th
Holder, Darrah................  86  86   172   +28   t-56th
Lecher, Tara..................  91  87   178   +34   t-73rd
McQueen, Ashley...............  93  92   185   +41   t-88th
Reed, Brooke..................  92  wd 

Central....................... 363 350   713  +137     14th
Taylor Hill...................  86  80   166   +22   t-27th
Kelsey Van Tasell.............  86  92   178   +34   t-73rd
Ashley Smith..................  98  84   182   +38   t-82nd
Chelsey Shuey.................  93  94   187   +43   t-93rd
Jill Huffman.................. 104 106   210   +66     107th

Franklin...................... 365 352   717  +141   t-15th
Brown, Avery..................  87  82   169   +25   t-41st
Craven, Sarah.................  89  82   171   +27   t-51st
Greathouse, Linda.............  89  96   185   +41   t-88th
Walton, Corie#................ 101  91   192   +48     98th
Kerfoot, Hayley............... 106  92   198   +54     102nd
Tiberghein, Hayley............ 100  99   199   +55     103rd

University of the South....... 363 354   717  +141   t-15th
Javadi, Emily.................  78  76   154   +10   t- 2nd
Eleey, Alison.................  84  79   163   +19   t-21st
Kennedy, Helen................  96  97   193   +49     99th
Caldwell, Mayayla............. 105 102   207   +63     106th
Ruppert, Eileen............... 109 113   222   +78     110th

Rend Lake CC.................. 367 358   725  +149     17th
Shoemaker, Lexie..............  91  88   179   +35   t-76th
Jackson, Nina.................  96  86   182   +38   t-82nd
Bremer, Laura.................  91  94   185   +41   t-88th
Weddle, Chandra...............  96  90   186   +42     92nd
Koeller, Taylor...............  89  98   187   +43   t-93rd

Park.......................... 370 358   728  +152     18th
Hall, Sarah...................  88  83   171   +27   t-51st
Vest, Lindsey.................  90  90   180   +36   t-78th
Faiferlick, Kelsey............  98  85   183   +39   t-85th
McDaniel, Madison.............  94 100   194   +50   t-100th

Millikin...................... 407 371   778  +202     19th
Schuerman, Gabbi..............  86  76   162   +18   t-16th
Gramlich, Codi................  95  92   187   +43   t-93rd
Insolia, Courtney............. 101 105   206   +62     105th
Carroll, Michelle............. 125  98   223   +79     111th
Boch, Tiffany.................  wd  wd 

Edgewood...................... 441 410   851  +275     20th
Whalen, Alice................. 106  88   194   +50   t-100th
Chang, Melanie................ 104 107   211   +67     108th
Faber, Katie.................. 119  97   216   +72     109th
Jedlicka, Sydney.............. 112 118   230   +86     112th

# Indicates individual player
All Tournament Team:  Paige Gooch, Abby Dickey and Kelsey Smith (DePauw), Emily
Javadi (University of the South), Hannah Buck, Andrea Hibbert and Connie Zhou
(Washington), Myriam Hassan, Jodie Peacock and Jamie Palermo (William Woods)

Back