Fourth-ranked DePauw Wins Second NCAC Championship Event and Overall Title; Gooch Named Player of the Year
May 5, 2013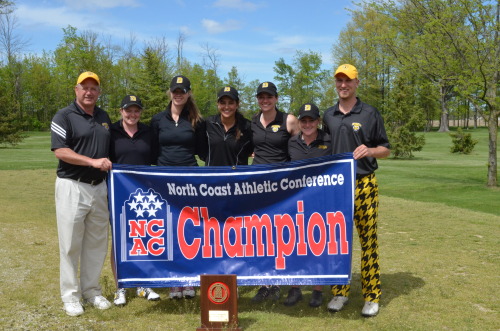 Delaware, Ohio - The fourth-ranked DePauw women's golf team shot a second-round 318 for a two-round total of 639 to win the second of two North Coast Athletic Conference Championship events by 22 strokes over Allegheny.
Combined with last weekend's first championship event, DePauw totaled a 1271 to win their second straight NCAC title by 58 strokes over Wittenberg.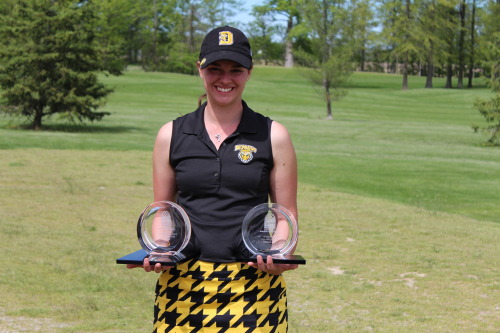 In this weekend's event, Kelsey Smith was the medalist at 153, while Paige Gooch was second with a 156. Camila Romero tied for fourth at 160 followed by Abby Dickey in 10th with a 173 and Jacqueline Carroll in a tie for 13th with a 175.
In the four rounds that comprised the NCAC Championships, all five Tigers finished in the top 10. Gooch (pictured) led the field with a 305, while Smith shot a 313 to finish second. Romero finished seventh with a 329 with Dickey in ninth at 335 and Carroll 10th at 336.
Gooch was also voted the conference's Player of the Year by the NCAC coaches and head coach Vince Lazar was the Coach of the Year for the second straight year.
The Tigers will now await word on a possible at-large spot in the NCAA Division III Championships which take place May 14-17 in Destin, Florida. DePauw has appeared in 11 straight national tournaments finishing second three times including last year and in the top four eight times.
For more information on the DePauw women's golf program, follow DePauw on Twitter (@DePauwAthletics / @DePauwGolfW) or like them on Facebook (www.facebook.com/DePauwAthletics).
NCAC Invitational
Oakhaven Golf Club
Delaware, Ohio, USA
Dates: 5/4-5/2013
Par 72, 5890 yards  (7 teams, 35 players)

DePauw........................ 321 318   639   +63      1st
Kelsey Smith..................  76  77   153    +9      1st
Paige Gooch...................  77  79   156   +12      2nd
Camila Romero.................  80  80   160   +16   t- 4th
Abby Dickey...................  91  82   173   +29     10th
Jacqueline Carroll............  88  87   175   +31   t-13th

Allegheny..................... 336 335   671   +95      2nd
Miranda Santucci..............  79  80   159   +15      3rd
Liz Blyth.....................  86  79   165   +21      7th
Sarah Vorder Bruegge..........  81  90   171   +27      8th
Lauren Wind...................  90  88   178   +34     17th
Naisy Flannery................  94  88   182   +38   t-20th

Wittenberg.................... 336 344   680  +104      3rd
Allie Lawwill.................  80  82   162   +18      6th
Nicole Waers..................  85  87   172   +28      9th
Deanna Mychalishyn............  87  87   174   +30   t-11th
Maggie Smith..................  84  90   174   +30   t-11th
Carolyn Wong..................  94  88   182   +38   t-20th

Denison....................... 350 340   690  +114      4th
Brynn FitzGerald..............  82  78   160   +16   t- 4th
Stacey Adams..................  89  86   175   +31   t-13th
Amanda Castle.................  86  89   175   +31   t-13th
Rebecca Rabb..................  93  87   180   +36     19th
Carly Schultz.................  94  99   193   +49     24th

Ohio Wesleyan................. 374 363   737  +161      5th
Courtney Tincher..............  89  87   176   +32     16th
Amy Greenwood.................  94  93   187   +43     22nd
Ally Lichwa................... 105  85   190   +46     23rd
Ashley Saylor.................  96  98   194   +50     25th
Amy Greenblott................  95 dnc 

Wooster....................... 419 398   817  +241      6th
Sharmeen Chinoy...............  88  91   179   +35     18th
Alyssia Gilbert...............  97 106   203   +59     27th
Nichole Gustafson............. 103 102   205   +61     28th
Savannah Glidewell............ 131 113   244  +100     32nd
Karley Walker................. dnc  99 

Hiram......................... 436 419   855  +279      7th
Megan Jennings................  99  96   195   +51     26th
Jenelle Bayus................. 113 101   214   +70   t-29th
Carrie Dyer................... 109 105   214   +70   t-29th
Alexa Griswold................ 115 117   232   +88     31st
Taylor Stott.................. 131 117   248  +104     33rd

# Indicates individual player
NCAC Championship - Event #2

Back