Bridgette Shamleffer and Kate Walker Named Co-Recipients of Amy Hasbrook Award
May 7, 2013
| | |
| --- | --- |
| Bridgette Shamleffer | Kate Walker |
Greencastle, Ind.— Bridgette Shamleffer (St. Louis, Mo./St. Joseph's Academy) of the field hockey team and Kate Walker (Indianapolis, Ind./Perry Meridian) of the women's basketball squad have been selected DePauw's top senior female student-athletes by the University's athletics department as co-recipients of the Amy Hasbrook Award.
The Hasbrook Award is presented annually to a senior female student-athlete who best exemplifies effort and excellence in academics, athletics, leadership, integrity, dedication to the team, campus involvement and community service.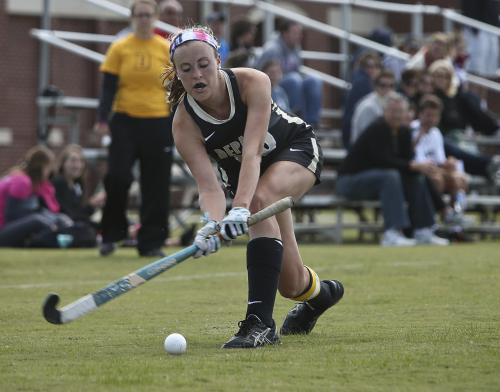 Shamleffer, a psychology major and anthropology minor, was a forward on DePauw's field hockey team that won the North Coast Athletic Conference regular season and tournament championships and earned the program's first appearance in the NCAA postseason since 1999. The Tigers topped Utica in the second round and knocked off undefeated and top-ranked Middlebury in the third round to advance to the national semifinals for the first time in school history.
She finished her career ranked eighth in career goals (39) and assists (21) and was tied for eighth in points (99). A first team all-region selection in 2012, Shamleffer earned second team honors in 2009 and 2011.
A Chi Alpha Sigma inductee, Shamleffer is also a member of Mortar Board, Psi Chi Psychology and Lambda Alpha Anthropology honor societies. She also is a three-time honoree on the National Field Hockey Coaches Association National Academic Squad.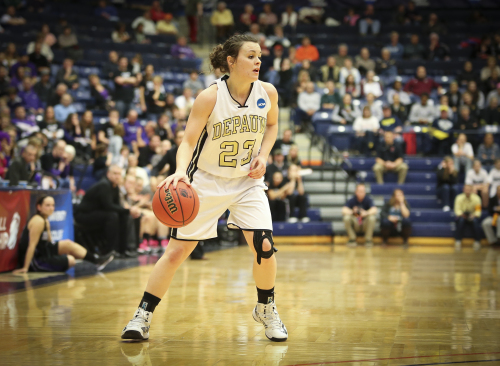 Walker, a biology major, started all 122 possible games in her four seasons at DePauw, An honorable mention all-America selection this year, she led the Tigers to a perfect 34-0 record and the program's second national championship.The 34 wins were the most in Division III history and the Tigers were just the seventh team in the Division to finish a season undefeated.
A first team all-North Coast Athletic Conference selection this year, Walker was the NCAC Tournament MVP and was named to the all-tournament team at the NCAA Division III finals. She set the DePauw career record for games started (122) and was third in both assists (391) and three-point percentage (.441).
Walker was a Chi Alpha Sigma inductee and also served as a student mentor and as the team's representative on the Student-Athlete Advisory Committee.
Other finalists for the Hasbrook Award included Elizabeth Young (tennis), Nicole Rossillo (swimming and diving), Dana Sprague (soccer) and Camila Romero (golf).
Matt Kukurugya, a member of the men's swimming and diving team was named the Phil Eskew Award winner as the top senior male student-athletes. Complete information on that is available here.
The awards are named for former DePauw student-athletes Amy Hasbrook '00 and Phil Eskew Jr. '63. Hasbrook was a four-year letterwinner for the women's basketball team who lost her life in a fire in 2002. Eskew, the president of DePauw's "D" Association for over 20 years, was a 1994 inductee into the DePauw Athletic Hall of Fame and was instrumental in its formation in 1986.
Amy Hasbrook Award Winners
Phil Eskew Award Winners
2005
Amy Argetsinger, basketball
2005
JaMarcus Shephard, football/track and field
2006
Leslie Dillon, cross country/track and field
2006
P.J. Mitchell, baseball
2007
Liz Bondi, basketball/tennis
2007
Evan Webeler, tennis
Sarah Gates, golf
2008
Rob Alexander, swimming and diving
2008
Katie Doogan, swimming and diving
Jeremiah Marks, football
2009
Amanda Stier, swimming and diving
2009
Michael McNelis, football
2010
Lauren Reich, cross country/track and field
2010
John Cook, swimming and diving
Megan Soultz, softball
Spud Dick, football
2011
Courtney Lauer, track and field
2011
Jonathan Lambert, football
2012
Catie Baker, swimming and diving
2012
Kreigh Kamman, soccer
2013
Bridgette Shamleffer, field hockey
2013
Matt Kukurugya, swimming and diving
Kate Walker, basketball
Back