DePauw's Three Student-Athletes Bow out of NCAA Play
May 23, 2013
Kalamazoo, Mich. - The season came to an end, today, for DePauw's singles and doubles participants in the NCAA Division III Women's Tennis Championships as the Tigers dropped a pair of first-round matches.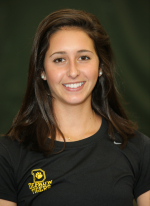 Maggie MacPhail (So., Indianapolis, Ind./Park Tudor) suffered a 6-3, 6-0 loss to third-seeded and defending national singles champion Gabrielle Clark of Emory. MacPhail (left) finished her second collegiate season with a 13-15 singles record as her career mark moved to 36-23.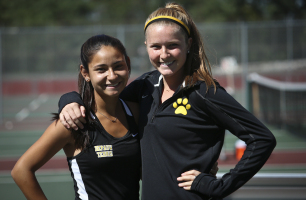 In doubles play, DePauw's tandem of Claire Marshall (So., Marietta, Ga./George Walton) and Meg Crowley (Jr., Barrington, Ill./Barrington) dropped a 6-2, 6-0 decision to Brittney Faver and Leah Kepping of Middlebury. Crowley and Marshall, who earned all-America honors by virtue of winning the fall Intercollegiate Tennis Association regional tournament, finished 29-14 on the season and 44-25 in their two seasons together.
For more information on the DePauw tennis program, follow DePauw on Twitter (@DePauwAthletics / @DePauwTennis) or like them on Facebook (www.facebook.com/DePauwAthletics).
Back