Hallett and Chasteen Earn All-Region Honors
May 10, 2013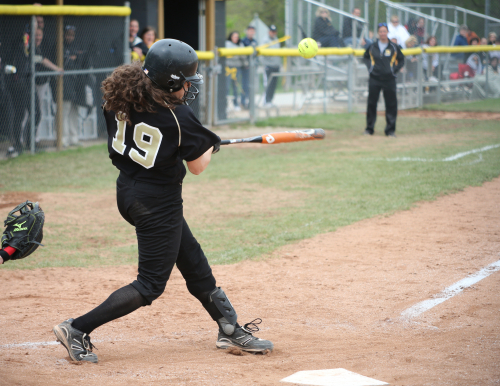 Greencastle, Ind. - Senior catcher Amy Hallett (Phoenix, Ariz./Pinnacle) and freshman shortstop Haleigh Chasteen (Avon, Ind./Avon) have been named to the National Fastpitch Coaches Association All-Central Region Third Team.
Hallett (left), a first team all-region choice in 2010 and 2012 and a third team selection in 2011, led the Tigers with a .402 batting average, 29 runs, 45 hits, 15 doubles, seven homers, 22 runs batted in, a .723 slugging percentage and a .442 on-base percentage. She also was second with 10 stolen bases.
Hallett earlier was named to the all-North Coast Athletic Conference first team and finished her career as DePauw's career leader in slugging percentage (.696), doubles (50), homers (37) and total bases (352).
Chasteen (right) was second on the team with a .366 batting average, 37 hits, 21 RBI, a .431 on-base percentage and tied for second with eight doubles. She was a second team all-NCAC choice in her rookie season.
DePauw, 22-17 on the season, won the North Coast Athletic Conference title with a 13-3 record and placed third at the NCAC Tournament.
For more information on the DePauw softball program, follow DePauw on Twitter (@DePauwAthletics / @DePauwSoftball) or like them on Facebook (www.facebook.com/DePauwAthletics).
Back