DePauw Finishes 25th in Final Directors' Cup Standings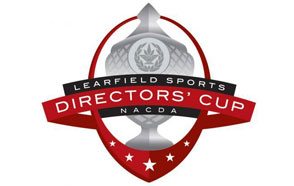 June 6, 2013
Greencastle, Ind. — Led by top-10 finishes at the NCAA Championships in four sports including the women's basketball team's national title and the field hockey squad's third-place showing, DePauw finished 25th in the 2012-13 Learfield Sports Directors' Cup Division III Final Standings.
The Directors' Cup was first awarded in Division III in 1995-96 and honors institutions maintaining a broad-based program and achieving success in both men's and women's sports.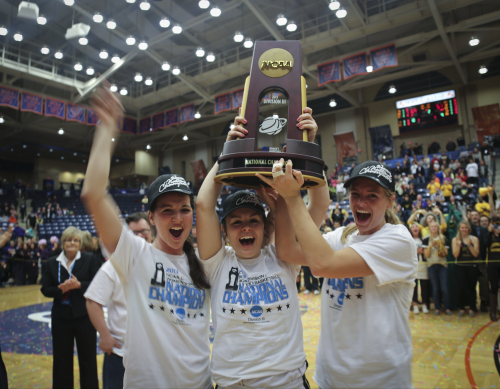 Totaling 497 points, DePauw recorded its 12th top-50 finish in the 18-year history of the program and the eighth straight. The Tigers' 25th-place showing is their fifth in the top 25 and also marked the 18th time in as many years that DePauw ranked ahead of all other Indiana Division III institutions.
DePauw also finished ahead of all other North Coast Athletic Conference institutions for the second time in as many years. It's also the school's best finish since an 18th-place showing in 2007-08.
The women's basketball team led the way with its second national championship in seven seasons, while the field hockey team advanced to the national semifinals for the first time in school history.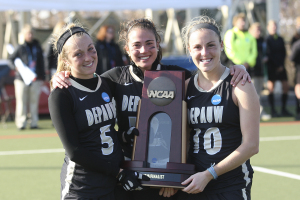 DePauw's women's golf team earned a trip to its 12th straight NCAA Championship and returned with an eighth-place finish, while the women's tennis squad made its 12th NCAA postseason appearance and ninth straight and advanced to the third round.
The men's swimming and diving program finished 13th at the Division III Championships for its fifth top-20 finish in the last six years, while the women's program tied for 27th.
Making its second consecutive trip to the postseason, the men's soccer squad advanced to the second round, while the women's soccer team made its seventh NCAA trip and first since 2006 after winning a pair of NCAC tournament games on the road.
Williams College (Mass.) topped the Directors' Cup rankings with 1,273.75 points for its 16th title, while Emory University (Ga.) was second with 986.5. Middlebury College (Vt.) was third with 941.75 and Wisconsin-Whitewater fourth at 895.
Directors' Cup Points Earned During 2012-13 Year
Sport
Finish/Points
Women's Basketball
1st/100
Field Hockey
tie-3rd/83
Women's Golf
8th/66
Women's Tennis
tie-9th/64
Men's Swimming & Diving
13th/63
Men's Soccer
tie-17th/50
Women's Swimming & Diving
tie-27th/46
Women's Soccer
tie-33rd/25
DePauw's Directors' Cup Finishes
Year
Final Rank

1995-96
93rd
1996-97
80th
1997-98
tie-66th
1998-99
tie-55th
1999-2000
43rd
2000-01
40th
2001-02
14th
2002-03
86th
2003-04
tie-78th
2004-05
27th
2005-06
13th
2006-07
15th
2007-08
18th
2008-09
39th
2009-10
26th
2010-11
33rd
2011-12
42nd
2012-13
25th
Back