Julie Sargent Named Interim Women's Lacrosse Coach
September 9, 2013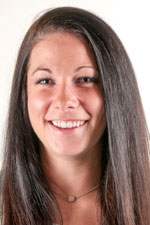 Greencastle, Ind. - Julie Sargent (pictured) has been named interim head women's lacrosse coach, replacing Susanna Wilcox who announced her resignation to take a position at Lake Forest Academy.
Sargent, in her second season with the Tigers, will coach the team through the 2013-14 year with a national search taking place at the end of the spring season.
"We're fortunate that Julie is able to move into this role and lead the program through the spring 2014 season," Theodore M. Katula Director of Athletics and Recreational Sports Stevie Baker-Watson said.
"She has great knowledge of the game and has been successful in identifying student-athletes who can thrive at DePauw."
Wilcox joined the DePauw staff during the summer of 2012 and led the Tigers to a 4-8 record in the school's inaugural season of women's lacrosse.
"Susanna started our women's lacrosse program which isn't an easy task and I thank her for her dedication to DePauw," Baker-Watson said.
Back