Hooker Named NCAC Athlete of the Week
November 5, 2013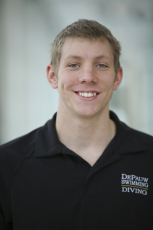 Greencastle, Ind. - After leading the Tigers to a 155-136 victory over Washington University (Mo.) junior Casey Hooker (Rensselaer, Ind./Rensselaer Central) was named North Coast Athletic Conference athlete of the week.
Hooker won three individual events and swam the lead leg on the 400 free relay. He touched first in the 1,000 free (9:49.59), 200 fly (1:55.51), 500 free (4:41.39) and won the 400 free relay (3:10.25).
The honor is Hooker's fifth in his career at DePauw.
Hooker and the Tigers are back in the water Friday, November 8, when they travel to Springfield, Ohio to take on Wittenberg. Meet time is scheduled for 7 p.m.
Back