National Champions of Women's Basketball Receive Rings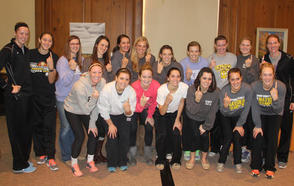 November 10, 2013
Members of the DePauw University women's basketball team today received their rings for winning the NCAA Division III championship in the spring. The ceremonies took place in the ballroom of the Memorial Student Union Building after a preseason scrimmage with Transylvania University. "All but one player from the 2013 champs received her ring Sunday, including the three outgoing seniors who led the team in their final collegiate season," reports the Banner-Graphic.
The women won the national title game on March 16. Grant Wieman writes that "the players all voted for the colors, size and design specifics, a black backing with gems on the front spelling '34-0,' a DePauw D logo on one side and the players' name, number and the letters GBT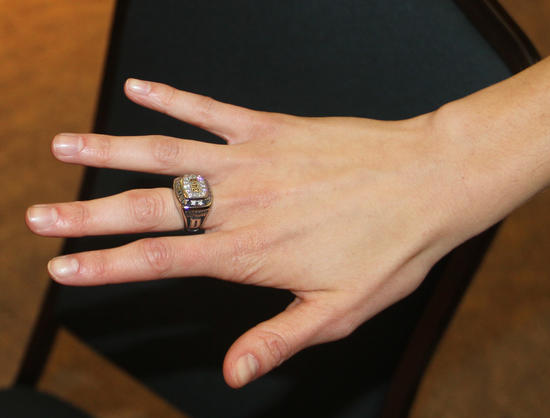 (for girls basketball team) on the opposite side. Each champion was able to select on which finger she would wear her own ring."
Access the story, which is accompanied by several photographs, at the Greencastle newspaper's website.
On June 14, the team was invited to the White House and was recognized by President Obama.
The women's team opens its 2013-14 season Friday vs. Otterbein at the Franklin Tip-Off Classic. Get the latest here.
Back