Tigers Take Down Yeomen in Home Opener
November 23, 2013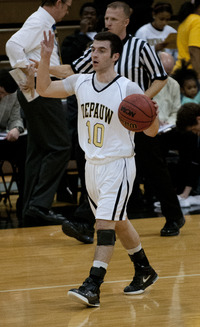 Greencastle, Ind.- The Tigers' men's basketball team opened North Coast Athletic Conference play when they took on Oberlin College Saturday afternoon in DePauw's home opener. The Tigers were in control from the start rolling to a 66-44 victory.
With the win DePauw improved to 3-0 overall and 1-0 in NCAC play, while the Yeomen dropped to 0-3 on the year and 0-1 in the NCAC.
The Tigers were led by Michael Wilkison (pictured) who scored a game high 17 points coming off the bench. Adam Botts added 11 points in the win. Mark Johnson grabbed a game high nine rebounds and added nine points for DePauw who outrebounded Oberlin 36-28 including 10-5 on the offensive glass.
DePauw shot 45% from the floor and held Oberlin to just 36% forcing 21 Yeomen turnovers. The Tigers won the battle in the paint outscoring the Yeomen 34-24. The combination of Johnson and Cameron Burns limited the effectiveness of the Oberlin big men.
Oberlin was led by Geoff Simpson who totaled 12 points in the loss.
The Tigers are back in action Tuesday, November 26, when they take on Mount St. Joseph at Neal Fieldhouse. Tipoff is scheduled for 7:30 p.m.
For more information on the DePauw men's basketball program, follow DePauw on Twitter (@DePauwAthletics / @DePauw_MBB) or like them on Facebook.
Back