DePauw Assistant Coach Named to NCAC All-Decade Team
January 9, 2014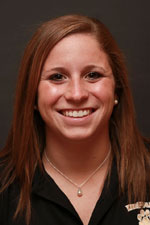 Greencastle, Ind. - Following a standout collegiate career, DePauw women's swimming and diving assistant coach Alyssa Swanson, a 2013 Denison University graduate, has been named to the North Coast Athletic Conference's Women's Swimming and Diving All-Decade Team (2004-13).
Swanson was selected in the 200-yard freestyle where she claimed NCAC titles for the Big Red in 2010, 2011, 2012 and 2013.
The all-decade team is comprised of one swimmer from each of the 15 individual championship events.
The North Coast Athletic Conference is celebrating its 30th playing season by selecting All-Decade teams in nearly every championship sport. Players from the first 10 years of play were selected in 1993-94, while players who competed from 1993-2002 were named to the 20th Anniversary All-Decade team. All current head coaches were asked to vote, as were some former coaches and administrators.
Back