DePauw Women "Perhaps the Best Story in All of College Basketball": TV Station
January 10, 2014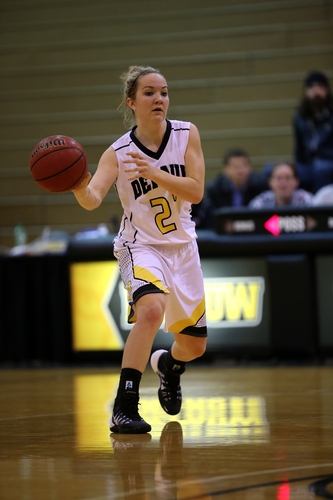 "It's hard to have any more success on the basketball court than the DePauw (women's basketball team) has had for quite some time now," reports Terre Haute's WTWO-TV. The television station was on hand for Wednesday's 63-38 victory by the #1-ranked Tigers over North Coast Athletic Conference foe Denison.
DePauw -- the NCAA Division III national champion from last season -- is now 13-0 overall and has won 47 consecutive contests, and 66th straight in the regular season. The station calls the team's success "perhaps the best story in all of college basketball."
The station's report includes interviews with head coach Kris Huffman and several players, plus game action. View it at the outlet's website. It is also embedded below.

The Tigers travel to Kenyon on Saturday, January 11, in a rematch of last year's NCAC Tournament title game.
For the latest on DePauw University's women's basketball program, visit the team's official online site.
Source: WTWO (NBC)/Terre Haute, Ind.
Back