Trees Notches Career High in Win Over Wooster
January 25, 2014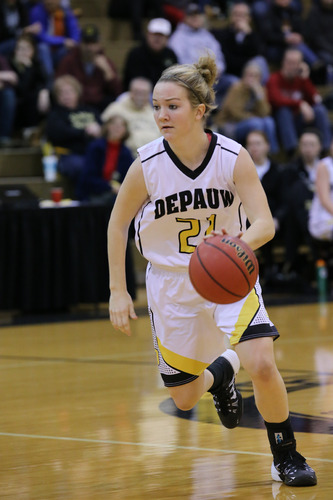 Greencastle, Ind. - Savannah Trees scored a career-high 26 points including 18 in the first half and helped top-ranked DePauw to a 98-32 North Coast Athletic Conference victory over visiting Wooster.
The Tigers improved to 18-0 overall and 9-0 in the North Coast Athletic Conference, while the Fighting Scots slipped to 6-11 overall and 1-8 in the conference.
DePauw jumped out to a 10-2 lead in the first four minutes, Wooster countered with a three-pointer, but the Tigers embarked on a 28-2 run to take a 38-7 lead with 3:45 left in the opening half. Late in that run, DePauw hit three-pointers on three consecutive possessions.
The Tigers headed to the intermission with a 54-16 advantage after scoring 12 points in the final 1:49. Ali Ross hit a trey before Trees completed a three-point play and knocked in a three-point field goal before Alex Gasaway converted a three-point play.
DePauw shot 61.8 percent in the opening half to Wooster's 21.4 percent and the Tigers hit 8-12 three-pointers.
The second half was much of the same as the hosts started with a 23-4 stretch to expand the margin to 57.
In all, 14 DePauw players scored paced by Trees' 26. Ross added 13, while Hannah Douglas scored 11 and had DePauw career highs of six assists and three blocks. Alison Stephens and Abby Keller each grabbed six rebounds as the Tigers held a 43-21 edge on the boards.
Lauren Hancher paced Wooster with six points, while Sydney Failing grabbed four rebounds.
DePauw shot 60.3 percent for the game and finished with 12-18 shooting from three-point range. Wooster shot 22 percent for the game and knocked in 4-20 three-pointers. The Tigers entered the game as the Division III leader for fewest turnovers per game and finished with just nine while dishing out 24 assists.
The victory was DePauw's 52nd straight which is the third longest in NCAA Division III history and sixth longest on all levels of NCAA women's basketball. It also marked the Tigers' 71st straight regular season win and 84th consecutive home conference win.
DePauw returns to the court on Wednesday, January 29, with an 8 p.m. game at Denison.
Back