Tom Ewing '35, Member of Legendary 1933 Tiger Football Team, Sees Broncos Winning Super Bowl
January 26, 2014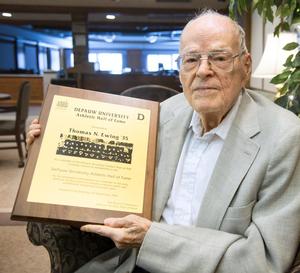 "Tom Ewing, who turned 100 in November, has a few years on Peyton Manning," begins a feature on the 1935 DePauw University graduate published in the News-Gazette of East Central Illinois. "So if matched against the veteran Broncos quarterback on the football field, Tom knows his limitations." (photo: John Dixon/News-Gazette)
Ewing tells the newspaper, "Even though (Manning) is getting older, I don't think I could catch him."
As Jim Rossow writes, "Back in the day, Tom gave guys like Manning fits. A DePauw University Hall of Famer who played end on the school's unbeaten 1933 football team, Tom was what kids today would call a 'beast,' an old-school type who didn't mind mixing it up in a leather helmet."
Ewing, professor emeritus of psychology at the University of Illinois at Urbana-Champaign, was a psychology major and Rector Scholar ar DePauw and now lives at Clark-Lindsey Retirement Village in Urbana. As a member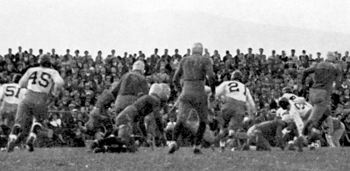 of the nation's last undefeated, untied and unscored upon football team, he's called upon by Rossow to predict the outcome of Super Bowl XLVIII. (at left: the 1933 Tigers in action)
"I have the Broncos 25-5," Dr. Ewing tells the paper. "The other team is the defensive team, Denver is the offensive team. So I pick offense over defense in this case."
You'll find the complete article, which is accompanied by a photo of Thomas N. Ewing Jr. with his DePauw Athletic Hall of Fame plaque, at the News-Gazette's website.
A "Monon Memory" of the legendary 1933 DePauw football team is embedded below.
In 1983 the '33 Tigers returned to campus to be honored on the 50th anniversary of their amazing season. CBS Sunday Morning aired a feature on the team, which can be seen below.
Back