Kenyon Spoils Tigers' Senior Day
February 15, 2014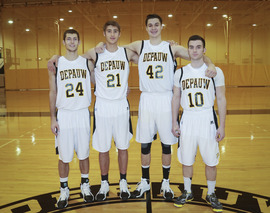 BOX SCORE
Greencastle, Ind.- The Tigers were back home Saturday afternoon taking on the visiting Kenyon Lords. DePauw was unable to overcome a sluggish start, ultimately falling to Kenyon by a score of 75-67.
With the loss the Tigers dropped to 16-7 on the year and 11-5 in North Coast Athletic Conference play, while Kenyon improved to 11-12 overall, and 8-8 in the conference.
On a day where DePauw honored their senior class it was the visitors who took early control over the game. Kenyon grabbed a six point lead over the first seven minutes and would extend that lead to nine by the 6:15 mark. Kenyon senior Ikenna Nwadibia led all scorers with 10 first half points shooting 71.4 percent (5-7) from the floor.
The Tigers were able to cut the Kenyon lead to just three, trailing 31-28 entering halftime. DePauw struggled to find any momentum in the first half and was unable to use the three-point shot to their advantage, shooting just 12.5 percent (1-8) from deep.
In the second half, DePauw was able to tie the score at 35-35 behind Adam Botts' three-pointer with 15:48 left in the contest. The next 12 minutes would prove to be a back and forth contest featuring six ties and 10 lead changes.
Keyon was up 51-50 with 8:24 when the Lords began to pull away behind strong play from Nwadibia and Julian Pavlin. The combination of Nwadibia and Pavlin scored 20 of Kenyon's final 24 points.
DePauw's shooting woes from three-point land continued in the second half where they hit on just 25.0 percent (4-16) shots from deep. Behind poor shooting the Tigers were unable to mount a comeback, dropping their seventh contest of the year.
Nwadibia led all scorers with a 22 points in the contest. He also grabbed 13 rebounds for the Lords who outrebounded DePauw 44-28. Pavlin and Brian Lebowitz added 19 points and 10 points respectively. Lebowitz totaled a game-high 14 rebounds and four blocks in the win.
Tommy Fernitz led the Tigers with 19 points off the bench, adding a team-high seven rebounds. Luke Lattner added 10 points in the loss.
Neither team could find a rhythm from deep as the Lords went 0-for-7 from three and DePauw hit on just 20.8 percent (5-24) of its three-pointers. Kenyon outscored the Tigers in the paint by a 34-26 margin.
DePauw is back in action Wednesday, February 19, when they host their NCAC rivals from Wabash College. Wednesday's conference tilt is scheduled for a 7:30 p.m. start.
Back