DePauw Finishes Third at NCAC Championships; Newlon Named Newcomer of the Year
February 15, 2014
Official Site | Thursday Recap | Friday Recap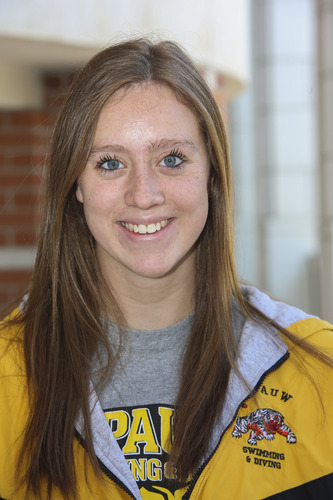 Granville, Ohio - DePauw's 15th-ranked women put together another solid day of competition and finished third at the North Coast Athletic Conference Championships with 1,087 points. Denison won with 1,839 with Kenyon second with 1,805.
Angela Newlon, who was second in the 200 butterfly in a "B" time of 2:05.86, was named the NCAC Newcomer of the Year. Newlon set the NCAC record in the 500 freestyle with a winning time of 4:50.91 and also finished third in the 400 individual medley (4:28.27).
Emily Weber broke her own school record in the 1,650-yard freestyle in an NCAA "B" time of 17:17.48 and also set a record for the 1,000 free with a split of 10:25.95. Maggie Lomasney was ninth in 18:19.97.
The Tigers placed two in the 200 backstroke finals as Kirsten Olson set a school record in the prelims and broke it in the finals with a sixth-place showing in an NCAA "B" time of 2:05.45. Annie Graves was seventh in 2:05.79.
Caroline Bridges touched in seventh in the 100 free in a "B" time of 51.69 seconds, while Allison Kirby was sixth in the 200 breaststroke in a "B" time of 2:23.95 after going 2:23.42 in the prelims.
DePauw's 400 free relay of Bridges, Weber, Olson and Erin Horne finished third in a "B" time of 3:29.44.
Earlier in the day, the 400 medley relay of Annie Graves, Kirby, Newlon and Bridges established a new school record in a time trial after finishing in 3:52.17.
Back