58-Game Winning Streak of Women's Basketball Team Featured in Indianapolis Star
February 17, 2014
"We've got great depth, great team chemistry and great work ethic," Kris Huffman, Head women's basketball coach at DePauw University, tells the Indianapolis Star. Today's edition of the newspaper features the Tigers, who "have won 58 consecutive games, the fifth-longest run of perfection in NCAA women's basketball history."
Phillip B. Wilson writes, "DePauw was the seventh women's team in NCAA history to go undefeated in a 34-0 title run last season. That banner was raised to the Neal Fieldhouse rafters Saturday before the latest North Coast Athletic Conference champions improved to 24-0 with their 77th consecutive regular-season win in an 80-47 'Senior Day' rout of Kenyon."
The article notes, "These student athletes hit the books. Half of the Tigers' 22 players had a first-semester grade point average of 3.4. (Alex) Gasaway is an Academic All-District selection. On court, DePauw utilizes depth to score 76 points per game while allowing 50 ... The Tigers have used 11 players in at least 17 games. Nine average at least 13 minutes playing time."
Huffman, who has led the Tigers to a 490-102 record over 21 years, tells the Star, "I think that depth really has paid dividends late in the season, late in the game, when we can keep people pretty fresh. We try to be great defensively, but we try to get up and down the floor, and we've got a lot of people who can put the ball in the basket."
Wilson reports, "Wins in the regular-season finale at Ohio Wesleyan and in the NCAC Tournament opener would pull the Tigers even with Capital (Ohio) for the fourth-longest streak in NCAA women's history. Connecticut owns the record at 90."
The article is prominently featured as the primary story on the sports page and a banner across the top of the front page (section A) of today's Star reads "58 in a row -- and counting."
You'll find the complete story -- headlined "DePauw women keep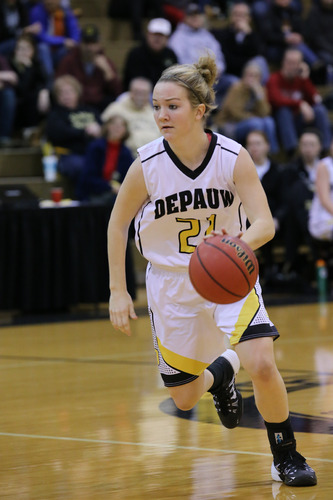 the winning streak alive" -- at IndyStar.com. The publication also offers an online photo gallery.
The team was featured on Indianapolis NBC affiliate WTHR-TV on February 8. Learn more in this summary.
The Tigers wrap up regular season play next Saturday, February 22, with a game at Ohio Wesleyan.
For the latest on the team, visit the squad's official online page.
Back