Hometown Paper Spotlights Contributions of Sydney Kopp '20
February 12, 2017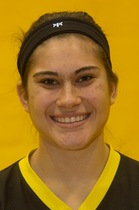 "Hinsdale South graduate Sydney Kopp is a starting freshman guard on a DePauw women's basketball team that won 22 of its first 23 games this season," notes the Pioneer Press of suburban Chicago. 'Kopp is averaging 9.3 points per game, third-best on the team, and scored 17 points in the Tigers' Feb. 8 victory over Denison."
Access the item at the newspaper's website.
The Tigers' 19 game winning streak ended yesterday in a 70-64 North Coast Athletic Conference loss at Kenyon. DePauw, ranked #10 in NCAA Division III, is now 22-2 overall and 14-1 in the NCAC and has locked up the top seed for the NCAC Tournament on Wednesday.
Read more here.
Back