Tigers Pay Tribute to Late Coach Ed Meyer '62
April 24, 2017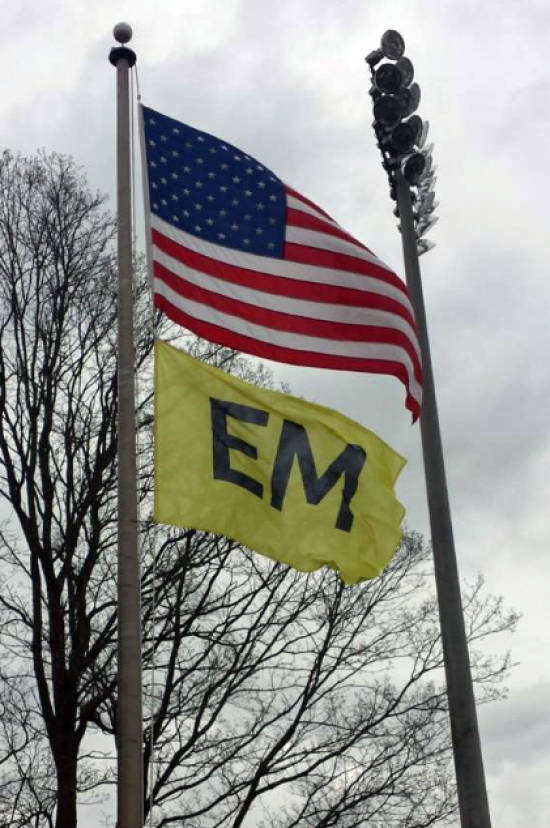 "DePauw University honored the memory of alumnus and longtime baseball coach Ed Meyer on Saturday during its doubleheader against Ohio Wesleyan," reports the Banner-Graphic. "Meyer, a 1962 DePauw graduate, was head baseball coach for 35 years and logged a Tiger-record 522 career wins while positively impacting several generations of student-athletes. He was also an emeritus professor of kinesiology when he passed away in 2015."
The Greencastle newspaper adds, "Tony Meyer and his three brothers (Mike, Patrick and Pete) threw out the first pitch for the second game and saw the unveiling of a flag with the initials 'EM' on it that will be a permanent fixture at Walker Field." (below: Mike '87, Tony, Patrick '89 and Pete Meyer throw out the first pitch on Saturday)
"[First-year coach] Blake Allen came up with idea to have a flag with EM on it, and going to fly that at all the home games," Tony Meyer said. "That was really great. There were several alums back who played with dad and some who played on his first team. There were some from the mid-80s to 90s. It was a good time to get together."

He added. "Blake and the Tigers tipped their cap to my dad, and it was a fantastic day," he said. "[DePauw athletic director] Stevie Baker-Watson helped get it all going. It was an even better day when DePauw beat Ohio Wesleyan twice."
Read more at the publication's website.
Also available is this site's December 30, 2015 tribute to Coach Meyer.
Source: Greencastle Banner-Graphic
Back