Monon Bell Classic To Be Televised by FOX Sports Midwest and FOX Sports Indiana
October 5, 2017
The 124th football game between DePauw University and Wabash College -- one of America's oldest and most storied college rivalries known as the Monon Bell Classic -- will be televised by FOX Sports Midwest and FOX Sports Indiana and streamed nationally on the FOX Sports GO app. The latest game in the series, which began in 1890, will take place Saturday, November 11, in Greencastle, with kickoff slated for 1:07 p.m. (Eastern time).
"FOX Sports Midwest and FOX Sports Indiana are excited to bring the Monon Bell Classic to fans in the region who know the special history of the rivalry, and to bring that story to a nationwide audience," said Jack Donovan, FOX Sports Midwest and FOX Sports Indiana general manager and senior vice president.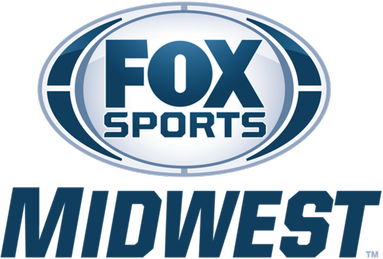 "I began talking with FOX Sports Midwest early in the summer and am thrilled we're able to announce this today," said Ken Owen '82, special adviser to the president at DePauw. "The network does a sensational job covering the NBA, MLB, NHL and collegiate sports, and the team is very familiar with the Monon Bell rivalry and has an affinity for its history. This great game is in very good hands."
"We are very excited to partner with such a strong network," said Jim Amidon of Wabash College. "FOX Sports is an exceptional platform to tell the story of the Monon Bell Classic, our colleges, and the players and coaches who make us so proud."

The 124th Monon Bell Classic will be televised on FOX Sports Midwest and FOX Sports Indiana. It will be streamed nationally to all users of FOX Sports GO -- via the FOX Sports GO app, which can be downloaded for free via multiple venues and at FOXSportsGO.com. The game will also be carried nationally, either live or on tape delay, by FOX College Sports. Click here for channel information; you'll also find more details at the bottom of this article.
Regional sports networks FOX Sports Midwest and FOX Sports Indiana are the television home of the Indiana Pacers, Indiana Fever, St. Louis Cardinals, St. Louis Blues, Kansas City Royals, IHSAA, Missouri Valley Conference and much more, producing more than 2,000 hours of live local programming each year. Nationally, FOX Sports' 22 owned-and-operated regional networks serve as the regional TV home to 44 MLB, NHL and NBA teams.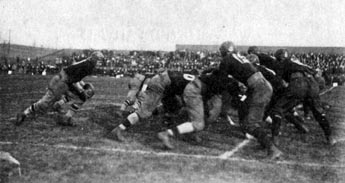 DePauw and Wabash first met on the gridiron in 1890. In 1932, a locomotive bell from the Chicago, Indianapolis and Louisville Railroad Company, also known as the Monon Line, was donated and became the winner's trophy each year. (at left: image from the 1916 game)
In the all-time series, Wabash holds a 60-54-9 lead. Since the Monon Bell entered the rivalry in 1932, Wabash leads, 41-38-6.
The game was first televised in 1977 by ABC on a regional basis; national telecasts began in 1984, and the game has been seen on ESPN2 and AXS-TV, among other outlets.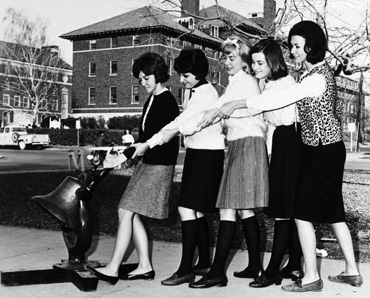 Tickets for the game are available; information and a link to online ordering is available in this summary.
The Monon Bell was voted Indiana's best college sports rivalry by fans of ESPN, and is noted in the DVD collection, ESPNU Honor Roll: The Best of College Football, as one of the nation's best annual clashes. The DePauw-Wabash rivalry was also featured on CBS' Sunday Morning and has twice been spotlighted in Sports Illustrated. The annual DePauw-Wabash clash is also detailed in Rites of Autumn: The Story of College Football, a book by Richard Whittingham. Indianapolis Monthly listed experiencing the game among "50 Things Every Hoosier Must Do." (at right: DePauw co-eds with the Monon Bell, circa 1964)
In 2013 and 2015, ESPN's College GameDay included the Monon Bell in a look at great college football rivalries.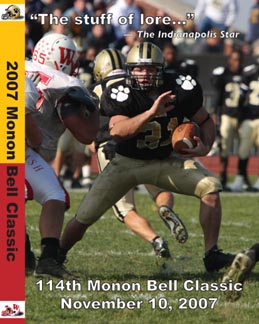 To date, 21 contests in the historic series have been captured on DVD. Available are the DVDs of the 1977, 1984, 1993, 1994 and 2000-16 Monon Bell Classics (supplies of past games are extremely limited and the 1994 game is sold out; the 2008 package is a two-disc set including all 115 "Monon Memories" produced to that date). Order them here. (at left: the cover of the 2007 Monon Bell DVD)
All 123 games to date are commemorated in video vignettes known as "Monon Memories." Created by Owen, the clips can be found here and on YouTube.
Learn more about the history of the Monon Bell Classic here.
TELEVISION AND STREAMING INFORMATION FOR THE 2017 MONON BELL CLASSIC:
Inside the /FOX Sports Indiana/FOX Sports Midwest footprint (Residential)
Cable TV and streaming bundles:

FOX Sports Indiana in Indiana
FOX Sports Midwest Plus in Illinois and Missouri (outside KC)
FOX College Sports Central

Satellite:

DirecTV – FOX Sports Midwest, channel 671
Dish Network – FOX Sports Midwest, channel 418 or 412-08

Streaming:

FOX Sports GO app and FOXSportsGO.com
Nationwide outside the FOX Sports Midwest/FOX Sports Indiana footprint (Residential)
Cable TV:

FOX College Sports Central (check locally for availability)

Satellite and telco:

DirecTV – FOX Sports Midwest, channel 671, with a subscription to the SportsPack
Dish Network – FOX Sports Midwest, channel 418 or 412-08, with a subscription to the Multi-Sport pack
AT&T U-verse – FOX Sports Indiana, channel 749 or 1749, with a subscription to the HD Premium Tier

Streaming:

FOX Sports GO app and FOXSportsGO.com
Bars, restaurants and commercial establishments
Cable:

On FOX College Sports Central (check locally for availability)

Satellite:

Inside the FOX Sports Midwest/FOX Sports Indiana footprint:

DirecTV – FOX Sports Midwest, channel 671, with Commercial Choice package
Dish – FOX Sorts Midwest, channel 418 or 412-08; check with Dish representative for more information

Outside the FOX Sports Midwest/FOX Sports Indiana footprint:

DirecTV – FOX Sports Midwest, channel 671, with FSN A La Carte package
Dish – FOX Sorts Midwest, channel 418 or 412-08; check with Dish representative for more information

Streaming:

FOX Sports GO app and FOXSportsGO.com
Back