Indy TV Station On Hand for Tigers' Family Weekend Football Victory
September 23, 2017
"Fast start for the Tigers after they gave up an early field goal," noted sports anchor Brad Brown on Indianapolis ABC affiliate WRTV's newscast tonight. His 11 p.m. college football recap included highlights of DePauw University's 51-24 victory over Hiram College this afternoon.
Brown pointed out that DePauw junior quarterback Matt Labus threw for five touchdown passes and that the Tigers collected 509 yards of total offense in the contest.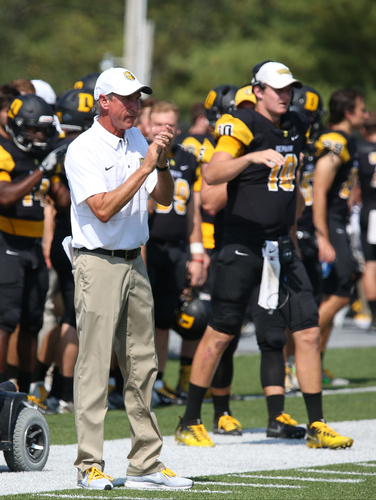 The piece also includes comments from head football coach Bill Lynch on his team's 3-o start.
After a commercial break, Brown noted the tribute that took place at the start of today's game honoring Clayton Geib, a senior offensive lineman for Wooster, who died last week.
The segments are embedded below.
For a recap of today's game, click here.
High definition game highlights are also available:
Source: WRTV (ABC)/Indianapolis
Back