Guest Composer Joseph Schwantner and ISO Among Spring School of Music Offerings
February 3, 2012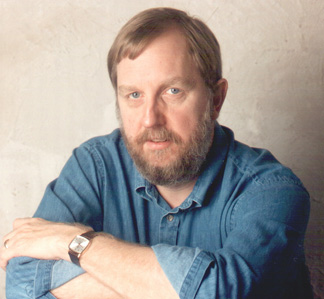 With approximately 80 events scheduled, the DePauw University School of Music's Spring 2012 season promises profound and captivating music for all audiences. You're invited to attend the upcoming concerts, recitals and events that encompass an array of musical styles.
In February, guest composer Joseph Schwantner (pictured above) will visit the DePauw campus for a five-day residency as part of "Music of the 21st Century" (Feb. 15-19). The soundscapes of this remarkable composer are mesmerizing, and his command of modern instruments is on full display in a stunning variety of works -- featuring performances by students, faculty members, the DePauw University Band and the DePauw University Orchestra.
Later this month, students will compete for the opportunity to perform a solo work with the DePauw University Orchestra as part of the annual Concerto Competition (Feb. 23-25; winners will perform a concert on April 15).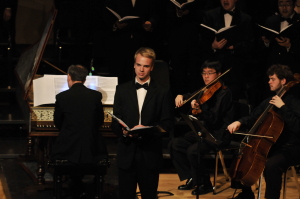 March begins with DePauw Opera's production of Benjamin Britten's comedic opera Albert Herring (March 1-4), directed by international stage director Joachim Schamberger. On March 14, the DePauw Jazz Ensemble will welcome guest trombonist Brent Wallarab to participate in a mid-week concert.
Prior to spring break, on March 18, the Indianapolis Symphony Orchestra will perform in Kresge Auditorium under the direction of their new music director, Krzysztof Urbanski (seen below right). This will be one of a very few chances to see Urbanski conduct in the United States this season and is certain to draw great audiences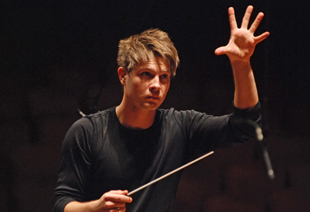 to Greencastle. Following spring break, audience members are invited to attend a wide variety of student solo performances and chamber music featuring student performers.
The Spring season will end with a May 6 performance by the DePauw University Orchestra and DePauw University Choirs dedicated to the memory of Cassel Grubb, former director of the DePauw School of Music, who passed away last month.
For a full listing of events, visit the DePauw School of Music website.
Additionally, the School of Music is pleased to offer a printed calendar of upcoming events. They are available by e-mailing schoolofmusic@depauw.edu or calling (765) 658-6737.
Back