DePauw University Band Performs Sunday at 3 p.m.
April 18, 2012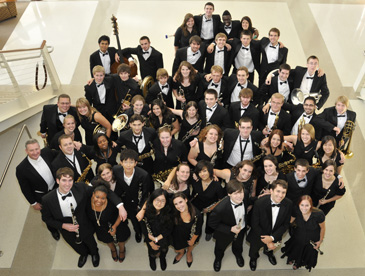 The DePauw University Band will present a concert this Sunday, April 22, with a program that will feature a variety musical of styles. The performance begins at 3 p.m. in Kresge Auditorium of the Green Center for the Performing Arts. It can also be heard live on DePauw's student radio station, WGRE (91.5 FM and via this link).
Selections to be performed include a premiere performance of a new work for band, A Soliloquy for Solferino by Martin Ellerby.
"The University Band was invited to be part of a consortium of university and professional ensembles that commissioned this work by British composer Martin Ellerby," notes Craig Paré, conductor of the University Band. "The composer chose, as his inspiration for this new piece, the anniversary of the founding of the International Red Cross, which occurred in the aftermath of an 1859 battle in northern Italy. There were over 30 ensembles that participated in this commission, and I believe we have a beautiful, unique work that will become part of the symphonic band's repertoire."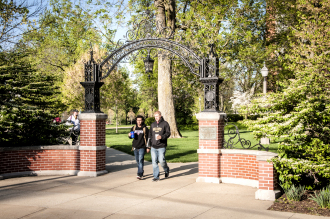 Other band pieces to be featured on the program include Masque by Kenneth Hesketh, Celebration by Edward Gregson, Epiphanies (Fanfares and Chorales) by Ron Nelson, Divertimento for Band by Vincent Persichetti, and Teddy Trombone by Henry Fillmore. The latter work will feature the University Band's trombone section -- Leif Anderson, Kaitlyn Koby, Nicholas Meiners, Orlando Ramirez, and Kyle Shockey.
It is requested that, if possible, those attending the concert bring one non-perishable food item for admission. All donations will go to the Putnam County Food Bank.
For more information contact Dr. Paré at cpare@depauw.edu, or visit the DePauw University School of Music online.
Back