Three DePauw Faculty Members Perform in Greencastle Summer Music Festival Opener
May 29, 2012
The 2012 Greencastle Summer Music Festival opens tomorrow with a free "shuffle concert," reports the Banner-Graphic. The program, at 7:30 p.m. Wednesday at Gobin Memorial United Methodist Church, will include "music by the romantic Russian composer Sergei Rachmaninov and the American Evan Chambers," and feature three DePauw School of Music faculty members: Katya Kramer-Lapin (piano), Scotty Stepp (saxophone) and Eric Edberg (cello).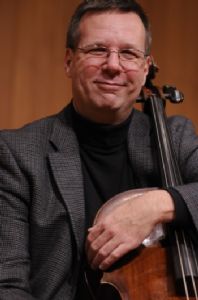 Also performing will be Matvey Lapin (violin).
"This is our eighth season," says Edberg, professor of music at DePauw and founder of the festival (pictured at left). "'Friends making music for friends' is how I think of what we do. We love playing together, for friends in the audience -- both old and new. And we are always happy to make new friends."
Learn more about the performers and the concert at the newspaper's website.
Back