Two Professors Contribute to Camp for Young Musicians
June 20, 2012
Two DePauw University School of Music professors -- Eric Edberg and Orcenith Smith -- are spending this week mentoring young Indianapolis musicians. The pair of music educators are lending their talents to "Strings and Jazzy Things," a tuition-free camp at Broad Ripple High School, which began Monday and continues through Friday.
Established by the Philharmonic Orchestra of Indianapolis in 1999, the camp serves inner-city middle school students of Indianapolis. The program is funded completely by major organizations in Indiana's capital city, including the Christel DeHaan Family Foundation, the Lilly Endowment, the Indianapolis Symphony, and St. Paul's Episcopal Church. Teachers are leading classical and jazz musicians from the Indianapolis' area. (top photo: Prof. Smith; below left: Prof. Edberg)
"One of the central features to this camp is to sustain the hard work by the many teachers who work with these students through the school year," says Smith, professor of music and director of the DePauw University Orchestra."Without a camp like this, many students who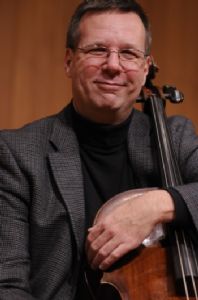 are interested in continuing their study would not have the resources to do so. As well, there are many important threads and learning tools woven into the daily activities that aid the students' study."
Included in the camp are daily string and band sectional master classes, jazz improvisation and body movement sessions.
Smith has volunteered his services to the camp for several years. He conducts the program's top orchestra, the auditions for which have been taking place since late May.
Edberg, professor of cello at DePauw, has been added to the faculty to teach classical improvisation as a new element to the program.
Founded in 1884, the DePauw School of Music is one of the oldest in the nation and has an established tradition of educating leaders in virtually every facet of music -- including performers, educators, composers and administrators. Vist the School of Music online.
Back