Performing Arts Series Brings Yuval Ron Ensemble to Campus on February 14
February 1, 2013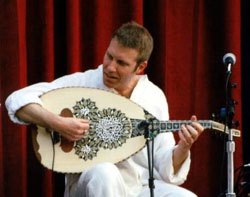 Merging the musical traditions from Sufism (Islamic mystical tradition), Judaism and the Christian Armenian Church, Yuval Ron Ensemble will perform at DePauw University on Thursday, February 14. Founded by Yuval Ron, a Grammy nominee and 2007 Academy Award winner for Music in a Short Film, the ensemble is unique in the way it blends traditional string, wind, and percussion folk instruments.
The performance, which is free and open to the public, begins at 7:30 p.m. in Thompson Recital Hall, located within DePauw's Judson and Joyce Green Center for the Performing Arts Center.
Composer, producer, and educator Yuval Ron exposes an ancient and deep inter-cultural connection between these traditions and the musical influences they share, bringing them together in one harmonious performance. The musical performance will also be enhanced by the whirling dance moves of Aziz.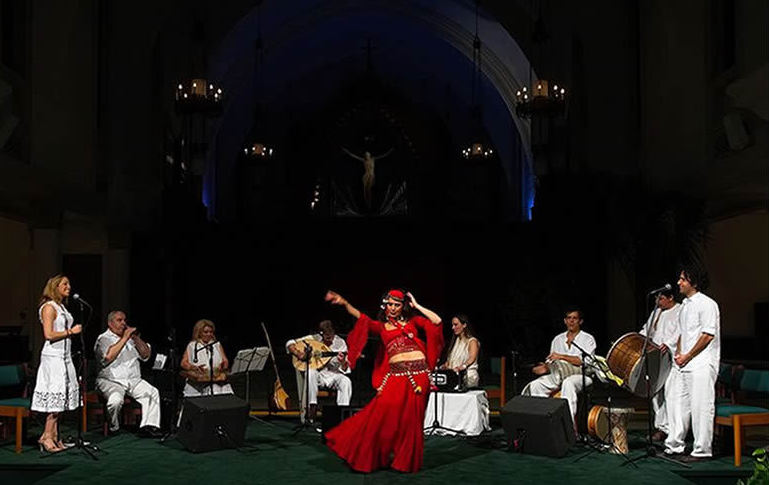 "I am thrilled that we can introduce the DePauw community to the Yuval Ron Ensemble," says Kate Smanik, director of DePauw's Center for Spiritual Life. "So often we hear about conflict between religious communities. The Yuval Ron Ensemble embraces the rich religious diversity and musical history of the Middle East, reminding the listener that our religious diversity is a source of strength. Through a blend of performance, storytelling and prayer the audience is transported to a place where Muslim, Jew and Christian can celebrate their interconnected heritage."
Ron Dye, coordinator of the Performing Arts Series, calls the ensemble "one of those rare groups who are
able to perform spiritual music, song and dance from diverse traditions in a way that is not only spiritually uplifting, but is also accessible and meaningful to audiences not familiar with the traditions. People will enjoy the music and feel strongly about it without necessarily knowing why."
This Performing Arts Series event is sponsored by the following DePauw organizations: Center for Spiritual Life, Cultural Resource Centers, Wamidan, International Student Association, Hillel, Muslim Student Association, Multicultural Student Services, Campus Living and Community Development, Campus Life, Conflict Studies, and the Russell J. Compton Center for Peace and Social Justice.
Back