DePauw Chorus & Chamber Singers Combine for Thursday Concert
March 4, 2013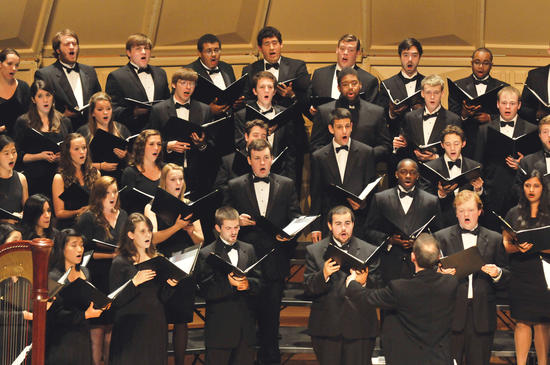 The DePauw University Chorus and DePauw Chambers Singers will join forces for a concert this Thursday, March 7. Conducted by Gregory Ristow, assistant professor of music, the performance will begin at 7:30 p.m. in Kresge Auditorium, located within the Green Center for Performing Arts.
The program pairs three Psalm settings with several American compositions and arrangements of traditional spirituals. The singers will be accompanied by pianists Amanda Hopson and John Clodfelter '94.
"It's exciting to be able to perform such a wide variety of choral music on one program," Ristow, director of choral activities at DePauw, said. "From the esoteric, scholarly nature of the Bach to the traditional spirituals; it's nice to have a little something for everyone."
Psalm settings by J.S. Bach, William Billings and Johannes Brahms make up the first half of the program. The DePauw Chorus will perform the works by Bach and Billings.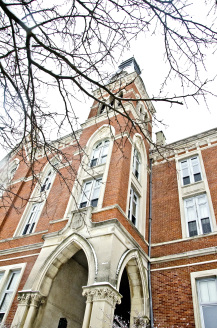 In addition to the Brahms, the DePauw Chamber Singers will present Randall Thompson's Americana, a setting of humorous texts from the late 1800s. The song cycle is composed in a 20th-century musical art style known as "news items," mimicking the layout, content and format of newspapers.
The concert concludes with three well-known spirituals, arranged by the great American choral conductor Robert Fountain. The three songs -- which include Sometimes I Feel like a Motherless Child, Deep River and Roll Jordan Roll -- will be sung by the DePauw Chamber Singers.
General admission tickets for the Thursday choral concert are $3. Tickets for all students, seniors and children are free. Anyone wanting to attend a music event, who cannot afford to pay full ticket price, can also take advantage of the school's pay-what-you-can option. Purchase tickets online at www.depauw.edu/music/tickets or at the Green Center's box office, located at 605 S. College Avenue in Greencastle.
Back