School of Music Season Culminates in Sunday Performance of 'Lord Nelson Mass'
May 1, 2013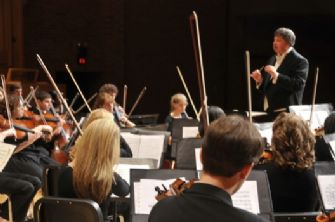 The DePauw School of Music will offer an exuberant finale to its 2012-13 season when orchestra director Orcenith Smith conducts the joint DePauw University Choirs and Symphony Orchestra to perform one of Haydn's greatest works "The Lord Nelson Mass." Featuring soloists Pamela Coburn (soprano), Caroline Smith (mezzo soprano), Kerry Jennings (tenor), and Valentin Lanzrein (baritone), the program will begin this Sunday, May 5, at 3 p.m. in Kresge Auditorium, which is located within DePauw's Green Center for the Performing Arts.
The work actually originated as "Missa in Angustiis" or "Mass for Troubled Times." Franz Josef Haydn, contemporary of Mozart and Beethoven, was the composer-in-residence for the Esterházy family at their palace in Eisenstadt, outside of Vienna. After returning from four years of composing in London, Haydn began his "Mass for Troubled Times" in response to an unstable period in Europe due to Napoleon's military advances into Austria and elsewhere, including Egypt.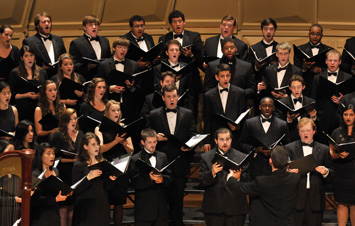 A timeline of 1798 events, however, suggests that Haydn did not actually know about British Admiral Horatio Nelson's victory over Napoleon at the Battle of the Nile until after the Mass was completed.
"We don't really know why the composer renamed the work," says Professor Smith, director of the DePauw University Orchestra. "It's possible that upon hearing of Nelson's victory, Haydn saw an end to Napoleon's dominance and as a dual tribute, renamed the Mass to herald a hero and an end to war."
Smith adds, "We do know that Haydn had written an enormous oratorio-like work, The Creation, during the months preceding the 'Nelson' Mass, and with this knowledge, his high level of craftsmanship, and the wisdom of his years, the listener senses real personal connections at work in the music.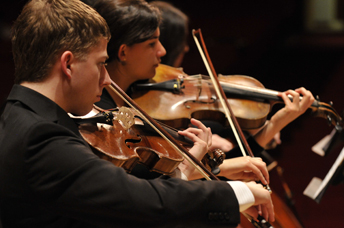 Each movement, whether for solos or with chorus, seems filled with expressive power."
Upon visiting the Esterhazy Palace, Lord Admiral Nelson was so taken by the composition that, after hearing it, that he gave Haydn his gold watch; Haydn, in return, gave Lord Nelson his pen.
General admission for the mass choir and orchestra concert is $3; tickets for students, children, and seniors are free. Call (765) 658-4817 for information or order tickets online.
Back