Tickets for School of Music's Guest Artist Series -- Featuring Fernando Otero, Bobby McFerrin, ISO and Others -- On Sale Now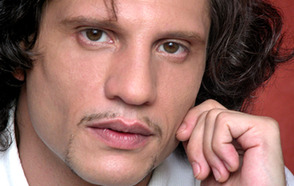 August 15, 2013
An array of artists who have won a total of 16 Grammy Awards will perform at the DePauw University School of Music during the upcoming academic year. Beginning today, you're invited to order tickets for the 2013–14 Guest Artist Series.
The first visitor comes September 29 with the Indianapolis Symphony Orchestra (ISO) in a mesmerizing presentation of Chopin's First Piano Concerto by Garrick Ohlsson (pictured at left), led by Polish-born conductor Krzysztof Urbanski, the youngest music director among major orchestras in the U.S.
On October 11, Latin Grammy Award-winner Fernando Otero takes the stage in Kresge Auditorium. Inspired by the traditional Argentine folk and tango music of his native Buenos Aires but defying traditional musical boundaries, Otero will be joined by collaborators Gabrielle Fink, Juan Pablo Jofré Romarion and Pablo Asian on this soulful search into the depths of beauty. The concert is part of Old Gold; a full schedule of events is available here.
The following month, the two-time Grammy Award-winning Turtle Island Quartet -- long famous for using a classical ensemble to fuse jazz and other contemporary styles -- joins forces with the uncategorizable singer/songwriter Nellie McKay for a November 14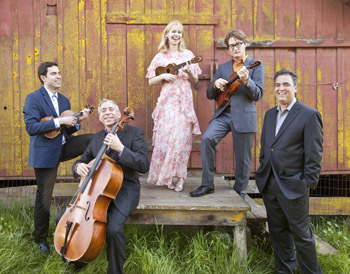 presentation of "A Flower is a Lovesome Thing," featuring the music of Billie Holiday, Billy Strayhorn and Weimar cabaret music of the 1920s. (the quartet and McKay are seen at right)
ISO returns to Greencastle on February 9 to pay tribute to the great symphonic traditions of Vienna in a concert of landmark works by Richard Strauss, as Maestro Urbanski brings to life the tales of Don Juan and Till Eulenspiegel, the inspiration behind some of Strauss's most popular compositions. Violinist Stefan Jackiw, hailed as "talent that's off the scale" by the Washington Post, rounds out this program with violin works by Mozart and Lutosławski.
April brings a shower of riches when two stellar, award-winning ensembles, Chanticleer and Bobby McFerrin, appear back-to-back at the Green Center for the Performing Arts. Chanticleer, the charismatic a cappella super group from San Francisco, brings its newest program to DePauw on Saturday, April 12, followed on Tuesday, April 15, by the internationally-renowned vocalist Bobby McFerrin.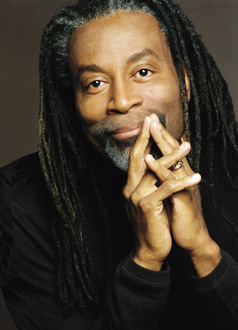 A 10-time Grammy Award-winner (best known for "Don't Worry, Be Happy," the first a cappella song to reach #1 on the Billboard Hot 100 chart), McFerrin and his band will present "spirityouall", an evening of spirituals inspired by the singer's father, the famous operatic baritone Robert McFerrin. (at left: photo of Bobby McFerrin by Carol Friedman)
Throughout the season, Fifth House Ensemble, one of Chicago's most imaginative chamber music groups, will participate in a series of community-wide artist residencies, beginning Sept. 13–14 and continuing Nov. 5–6 and March 4–5. During the new residency program, initiated by the School of Music, the public is invited to participate in several free events -- at Starbucks and the Farmers' Market in downtown Greencastle -- by contributing memories, images and inspiration for the ensemble's next multi-media work, "Harvest." In its most innovative performance to date, the School of Music will pay tribute to the families, heritage and heroes of Putnam County in a moving season finale, including the world premiere of "Harvest," by the Fifth House Ensemble, on Mother's Day, Sunday, May 11.
"In addition to providing high quality concerts, part of the motivation in bringing these world-class artists to our community is to give students the opportunity to work with them," notes Mark McCoy, dean of the School of Music. "Guest artists often sit in on rehearsals and offer master classes,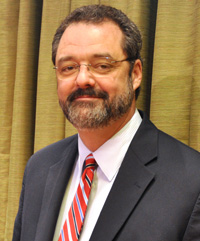 along with critical feedback important to artistic growth that enriches both the students' experience and our educational outreach."
The dean adds, "Performance series, such as these, could easily cost $100 per concert -- or more -- in Chicago or New York, but not in Greencastle. With the new All-Access Season Pass that we're also rolling out this week, audience members who respond by Sept. 15 can receive admission to the entire season for only $75, or purchase two passes for $100."
The new season pass will include access to all Guest Artist Series events -- plus the Faculty Select Series, Annual Holiday Gala, Opera at DePauw and Music of the 21st Century, as well as all School of Music concerts.
Individual ticket options are also available at the following prices: Guest Artist Series: $10 in advance/$15 day of the event; Faculty Select Series: $5; School of Music Ensembles: $3; Annual Holiday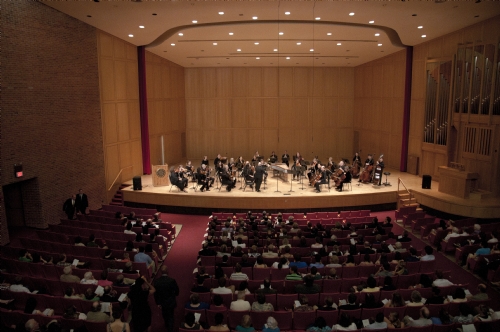 Gala: $10; Opera at DePauw: $7; and Music of the 21st Century: $5.
Tickets for all students, seniors over 65, and youth, 12 years and younger, are free thanks to season sponsors, Judson and Joyce Taglauer Green ('74 & '75). To ensure that performances are accessible to any person wishing to attend, a pay-what-you-can option will also be available again this year, online and on request. All audience members are advised to purchase tickets in advance to ensure seating.
For assistance with ordering an All-Access Pass or purchasing individual tickets, visit www.depauw.edu/music/tickets or call the Green Center box office, (765) 658-4827.
Back