School of Music to Present Third Annual Holiday Gala, Dec. 7 & 8
November 24, 2013
Following an overwhelmingly positive audience response in 2011 and 2012, the DePauw University School of Music has teamed up with local partners, community and campus-wide, to present its third annual Holiday Gala. The event will once again include two concerts, on December 7 and 8, at the Green Center for the Performing Arts. Members of the School will present a wide array of holiday music from various traditions with the University choirs, band and orchestra, as well as a host of chamber groups, all participating in the festive year-end performance that has become a Greencastle tradition.
On Saturday, December 7 at 7 p.m., audiences can attend a full-length concert, which will be followed by a cookie and punch reception hosted courtesy of Bon Appetit, the Huber Fund for the Arts, and the School of Music. On Sunday, December 8 at 3 p.m., a shorter concert will be presented for families and children. Santa Claus will once again take a break from his hectic schedule to make a special guest appearance at the Sunday concert.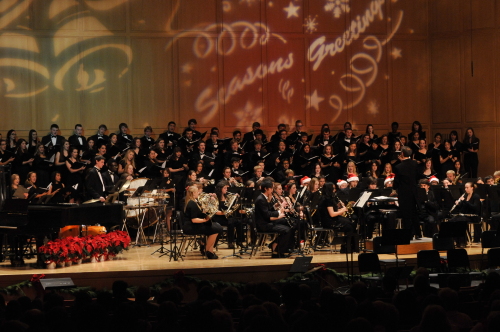 Several local restaurants -- including 2West, Almost Home, Chief's, Final Approach, The Fluttering Duck, The Hub and Monical's -- have partnered with the School of Music to provide dinner specials on Saturday night and ensure customers arrive at the concert before 7 p.m. These restaurants will also be giving out a limited number of vouchers for free tickets to the Holiday Gala. Details on these dinner specials can be found online at www.depauw.edu/music/holidaygala or by calling the restaurant.
To help create a joyful season spirit, carolers from the School of Music can also be heard downtown in stores and restaurants on the Greencastle Square prior to the Saturday evening concert.
"The gala at the Green Center has become the kick-off event to the holiday season here in Greencastle," says Sue Murray, mayor of Greencastle. "We are grateful to Dean McCoy and
all of the talented students and faculty who bring this magnificent offering to our community."
General admission tickets for the popular holiday concert are $10. Thanks to season sponsors Judson and Joyce Green, tickets for students, seniors and children are free. A pay-what-you-can option is also available, online and on request, to ensure that any person wishing to attend is able to do so. To obtain tickets, visit www.depauw.edu/music/tickets or stop by the Green Center box office, located at 605 S. College Avenue. For additional details, call (765) 658-4380.
Back