DePauw Hosts Second Annual Honor Band Program This Weekend
January 14, 2014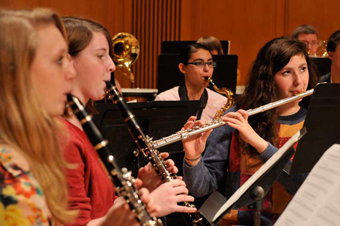 The DePauw University School of Music will host its second annual Honor Band program this Saturday and Sunday, January 18–19, at the Judson and Joyce Green Center for the Performing Arts. The culminating event of this intensive retreat for high school music students will be a concert conducted by Craig Paré, director of DePauw University Bands, at 3 p.m. on Sunday in Kresge Auditorium.
For the occasion, Dr. Paré has selected a varied program of six works opening with Alfred Reed's fanfare "A Festival Prelude," followed by "Themes from Greenbushes" a fugue-like piece by Percy Grainger, featuring each section of the ensemble. A unique setting of the classic American hymn tune "Amazing Grace" set by Frank Ticheli, one of the core works for band; the finale from John William's soundtrack for the "Star Wars" movie The Empire Strikes Back, and Sousa's "The Thunderer," edited by the eminent conductor Fredrick Fennell are also included on the program, which will conclude with a performance of "Polka and Fugue" by Jaromir Weinberger, featuring DePauw senior Carly Tebelman on the J. Stanford Smith concert organ.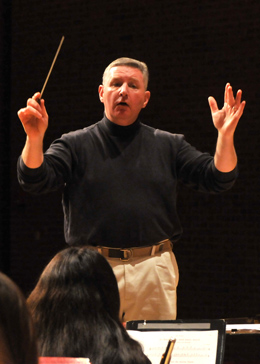 "Because the pipe organ is actually a wind instrument, the combination of organ and wind ensemble creates a naturally beautiful blend of sound," observes Professor Paré (pictured at left) , "however, I regularly meet students who have never heard a band perform with organ."
The conductor adds, "Having an instrument of the quality found in Kresge Auditorium is a unique feature of our concert hall. If a visiting student came to DePauw and saw an organ on the stage and it just sat there unplayed, it would be a crime. One of my goals is that the students who perform in the Honor Band each year leave here having played at least one piece composed for organ and band."
To participate in the annual Honor Band, area music directors nominate outstanding students who have excelled in their respective high school bands. Top DePauw students also sit in with the ensemble to serve as mentors and co-performers in the program, which includes ensemble rehearsals, workshops and a variety of master classes taught by the University's applied music faculty.
In the second year of the new program at DePauw, the number of central Indiana schools represented has grown to include Clay City, Cloverdale, Crawfordsville, Culver, Edgewood, Greencastle, Lawrence, North Montgomery, North and South Putnam County, Triton Central and Warren High School.
"I conduct honor bands all around the state," notes Paré, "but being able to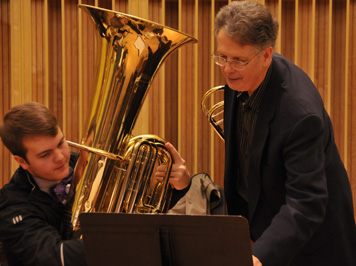 have students here is a joy. To be able to share our facilities and make music together in such a focused period of time really forces the students to work at a higher, faster pace. It challenges their stamina; it challenges their technique, their imagination and their ability to collaborate with other students. My aim is that when they return to their home schools, they are energized and inspired to make music at a higher level."
General admission tickets to the DePauw Honor Band concert are $5. Children under 12, all students, and seniors over 65 are free. For additional information about the concert, contact Dr. Paré at cpare@depauw.edu. Tickets may be purchased online at www.depauw.edu/music/tickets, or at the Green Center box office, beginning one hour prior to the performance. Regular box office hours will resume on January 27.
Back