Joe Brent '97 and Sara Caswell Coming for Feb. 26 Performance
February 18, 2014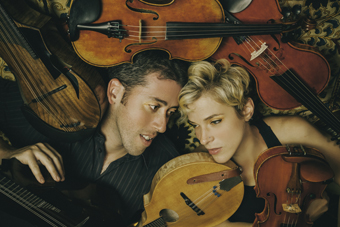 DePauw University's Performing Arts Series presents Joe Brent, a 1997 graduate of DePauw on mandolin, and Sara Caswell, violin, in a Wednesday, February 26 concert. The program, which is free and open to the public, begins at 7:30 p.m. in Thompson Recital Hall, located within the Judson and Joyce Green Center for the Performing Arts.
Brent and Caswell will also give a talk on music entrepreneurship earlier that day at 4 p.m. in room 1029 of the Green Center. It too is also free and open to all.
Combining elements of both older and contemporary classical music with jazz, rock, traditional and other genres, the New York-based duo deliver a truly eclectic sound.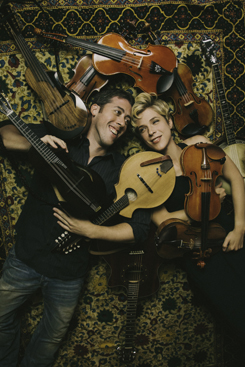 Joe Brent, who was an Honor Scholar and music composition major as an undergraduate, is an experienced performer and has led workshops in Asia, Europe, and South and North America. He is a faculty member at Mannes College, the New School for Music in New York City. According to David McGee of the Bluegrass Special, Brent "recognizes no boundaries the mandolin cannot breach, and thus seems destined to forge a body of work future generations will have to reckon with."
Violinist Caswell was recognized twice in recent years as the "top jazz violinist" in the annual poll of JazzTimes readers. She graduated from Indiana University with a degree in violin performance and jazz studies and has released two solo CDs as well as am album with her vocalist sister, Rachel Caswell.
For more information click here or contact Ron Dye, coordinator of the Performing Arts Series, at rdye@depauw.edu.
Back