Drawing Funny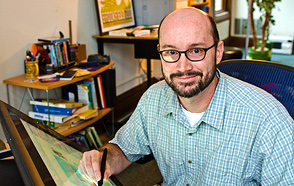 February 20, 2012
Troy Cummings was having the kind of back-and-forth you only find in the world of children's books. A 1996 graduate of DePauw, Cummings was just putting the final touches on The Eensy Weensy Spider Freaks Out, his first book as both writer and illustrator. In his re-envisioning of the old nursery rhyme, the washed-out spider is so traumatized by her fall that she develops a fear of heights.
The spider eventually climbs up the spout again – sorry for the spoiler – but before she finds her courage, another character calls her a chicken. "Bok Bok," Cummings had written, but an editor at Random House took issue with that particular onomatopoeia. "Buk Buk" was suggested instead.
Following some serious debate, "Bawk Bawk" was agreed upon as a compromise. It was one of the last hurdles Cummings faced in realizing a lifetime goal.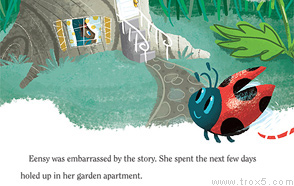 Cummings grew up drawing like most kids do, but when others moved on to new hobbies, he never stopped. In high school, he drew for the student paper, and he continued as an illustrator for The DePauw during college.
"It was probably my first 'professional' job," Cummings says. "The drawings were terrible, though. They were supposed to be Bob Dole or somebody, but you can't tell. Some students come to college, and they've had some instruction or they're naturally very good. I didn't know what I was doing, and nobody had ever shown me anything. I was just learning at that point."
He leveraged his time at The DePauw into a few Winter Term and summer internships to build experience and confidence. After graduation, with the Internet growing, Cummings quickly found work with the graphic design skills he'd picked up. He spent time at the Chicago Tribune, then at a children's website at the tail end of the boom. In 2000, he and his wife, who he met at DePauw, returned to Greencastle when she took a job with the University.
Cummings now freelances out of a studio that overlooks Greencastle's courthouse square. His computer sits in a corner of the studio, with a drafting table nearby. On a wall across the room, the storyboard of a forthcoming book is laid out page-by-page.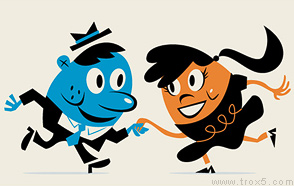 But his studio is also filled with comics, board games and B-movie posters. Boxed in by a high ceiling and tall windows, they turn the space it into a playground that keeps Cummings in-shape creatively.
Like his own art, most of the collection is dominated by the perspective-busting simplicity of 50s and 60s-era cartoons. The flat, angular drawings became pervasive because they were cheap to produce (Ever notice how you can see Fred Flintstone's front and side at the same time?) and because their non-fussy aesthetic was as charming as it was modern.
Five decades later, the style is more retro than modern, but still as charming as ever. Cummings has kept the look alive in books, magazines, websites and iPad apps he's illustrated for clients such as AOL, Cartoon Network and the New York Daily News. And now that's he's writing his own material, he's trying to match the nostalgic appeal of the illustrations with layered narratives that a mom or dad will enjoy.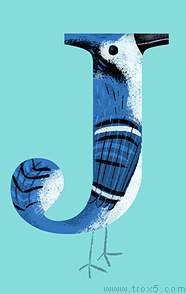 "To me, the goal when writing a book is to aim super high at the parents," he says. "I see this now because I get asked to read the same book over and over and over again. You have to write a kid's book so it's enjoyable to read more than once. Rocky and Bullwinkle is the perfect model. You can watch them run around and fall off cliffs and think that's funny, but on top of that there are jokes aimed at adults. It's fun to try to do that … we'll see how many jokes make it through the final edit of the book I'm working on now."
Adults may have the final say in what stays and what goes, but children oversee Cummings' projects from start to finish. His son and daughter, ages two and four, provide both criticism – "That doesn't look like a duck." – and inspiration. The idea for his next book, for example, was hatched from a play session. In it, a dad who plays horse for his children is mistaken for a real horse and nabbed by rustlers.
Cummings, who illustrated the recently released card game Let's Take a Hike, is also trying his hand at game design with his family's help. He tests mock-ups with his daughter to see what works and what doesn't, what's fun and what's boring. Even if a design ends up being a dud, it's not as if the time was wasted. Doing research for work by spending time with your kids is a good job to have.
"You ask yourself, 'If I was infinitely rich and could do whatever I wanted, what would I do?' This is what I'd be doing," Cummings says. "Minus the infinitely rich part."
View more of Troy Cummings' work at www.trox5.com.
Back