Miami Heat VP Eve Wright '96 Among SportsBusiness Journal's 'Forty Under 40'
March 12, 2012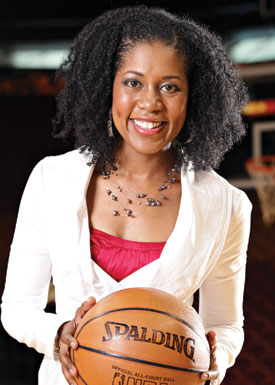 "The deals have been coming fast and furious for the Miami Heat since LeBron James landed in South Beach last season," notes today's edition of SportsBusiness Journal. "Helping leverage the team's success is Eve Wright, whose savvy legal skills are paying off for the franchise."
Wright, a 1996 graduate of DePauw University, is vice president and associate general counsel for the Heat. She is listed among SportsBusiness Journal's "Forty Under 40." According to the publication, she "not only is helping pave the way for growth at one of the league's top revenue teams, she also is exerting her influence beyond the Heat's front office" as a member of the board of USA Track & Field, as a guest lecturer, and through her mentoring of other women in the business of sports.
"Eve's modest demeanor belies a profound passion for contributing to our industry via board service and mentoring," Eric Woolworth, president of business operations for the Heat, declares.
The profile points out that Wright served as senior director of legal affairs for the LPGA before joining the NBA's Heat in 2007. In her position, "she deals with a variety of legal issues ranging from negotiating legal points of sponsorship deals to navigating the local political waters for the Heat and the county-owned AmericanAirlines Arena."

The full item is available to subscribers at the publication's website.
An economics major at DePauw, Wright has served her alma mater as a member of the Alumni Board. She's also the subject of this previous story.
Back