The Problems of Congress Extend to Main Street, Opines Lee Hamilton '52
March 13, 2012
When it comes to being a member of Congress, "judgment and criticism" come with the territory, and both are essential, argues Lee Hamilton. But the Democrats who served 34 years in the U.S. House of Representatives also believes that "Congress is part of a larger political system that also involves We The People. Our democracy doesn't just require its institutions and political leaders to function well; it works best when we, as citizens, all do our part."
In an op-ed, Hamilton, a 1952 graduate of DePauw University, continues, "So at this moment when Congress's public standing is at an all-time low, it's natural to wonder: how are the American people doing at holding up their end of the bargain?"
An annual survey of the nation's political scientists by the Center on Congress at Indiana University, which Hamilton leads, gives American citizens what amounts to a C overall for their participation in the political process.
The grade is D when it comes to how well Americans follow what's happening on Capitol Hill; it's worse than a D when it comes to understanding how Congress functions and its constitutional powers.
"Especially noteworthy is their low opinion of Americans' grasp of the importance of compromise," Hamilton notes. "In a politically and socially diverse country, with two houses of Congress and a president all able to weigh in, most legislation simply cannot be crafted without some measure of compromise. Most of the experts surveyed believe that many Americans don't understand this."
The man who co-chaired the 9/11 Commission and Iraq Study Group adds, "Now, these are the opinions of a handful of political experts. The point is not to berate our fellow citizens for their ignorance, but to understand that if we want Congress to improve, it is not just up to its members to make it happen.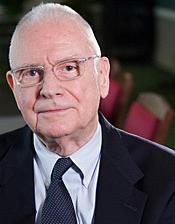 Congress will change when we insist that it change ... Without the informed understanding of the American people, in other words, Congress will continue to flounder. And if it does, it won't just be its members' fault."
Access the complete essay here.
A history major and basketball standout at DePauw, Lee Hamilton returned to DePauw to deliver a Timothy and Sharon Ubben Lecture on March 15, 2011. A summary including video clips can be accessed here.
Back