Article on "Eye-Catching" Product Artwork Cites Jim Zimmer '98
March 15, 2012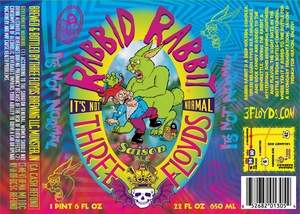 "With names like Hoptimus, Moloko and Osiris, Indiana craft beers get your attention. But they're also becoming known for eye-catching art and design," reports the Indianapolis Star. Michael Atwood writes, "Branding drives image-conscious breweries to hire artists, turning store beer aisles into a 'veritable art gallery,' according the TheDailyMeal.com, which in January featured '25 Beers With Great Label Art.' "
The piece notes the work of Jim Zimmer, who works "full-time at a Chicago advertising agency ... (and is) a DePauw University graduate." Zimmer does graphic design for Three Floyds Brewing Co. "In addition to work on bottle art, Zimmer creates promotional materials for the Munster brewery -- everything from playing cards, hockey jerseys and the highly sought 'golden tickets' for the annual Dark Lord Day beer release ... he's most proud of the first Three Floyd's Label he did -- a brightly colored piece combining elements of the brewery with imagery from the film A Clockwork Orange."
"Being an artist by trade, I like to get out there and do some wild stuff whenever I can," says Zimmer, a studio art major who earned his DePauw degree in 1998.
Access the article at IndyStar.com.
Back