Medievalist Steven F. Kruger Presents April 24 Talk
April 17, 2012
Steven F. Kruger, a leading medievalist, will visit the campus of DePauw University next Tuesday, April 24, to discuss "The Space and Time of Religious Conversion." The talk will take place at 4 p.m. in the auditorium of the Richard E. Peeler Art Center. Presented by the departments of English and art/art history, with support from the Amy Braddock and Karen Butler funds, the program is presented free of admission charge and is open to all.
A professor of English at the Graduate Center of the City University of New York and also at Queens College of the City University of New York, Kruger's books include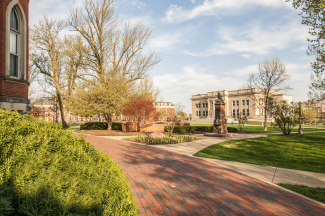 The Spectral Jew: Conversion and Embodiment in Medieval Europe; Dreaming in the Middle Ages and the anthology Approaching the Millennium: Essays on Angels in America, which he co-edited with Deborah R. Geis, associate professor of English at DePauw.
In his talk, Professor Kruger will focus on some non-medieval as well as medieval texts and visuals to address the questions: What changes the convert's relationship to the world around him/her after conversion? How can we address this question by looking at such basic categories for organizing experience as space and time?
Back