USAF Capt. Mike Phillipp '05 Featured in Newspaper Story
June 10, 2012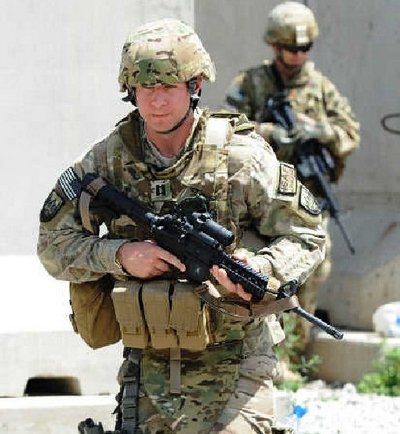 "Mike Phillipp seemed to have everything going for him: He had left high school early to go to DePauw University where he graduated with a degree in political science," begins a story published in today's Fort Wayne Journal Gazette. "Three years later, he was graduating from the Indiana University School of Law and clerking for a law firm in Indianapolis. But then (he) wanted something more."
The article by Dan Stockman details how Phillipp is now a captain in the U.S. Air Force serving in Kabul, Afghanistan as an attorney with the Judge Advocate General and volunteering to support the troops. "When he's not busy with his legal duties, he takes shifts on the wall guarding the compound, often carrying an M249 Squad Automatic Weapon –- the modern, smaller and lighter equivalent of the old M60 machine gun," writes Stockman.

A 2005 graduate of DePauw, Capt. Phillipp tells the newspaper, "It's all about supporting the troops out here to the best of our ability. That's why I volunteer; that's why everyone volunteers out here."
You'll find the complete text at the Journal Gazette's website.
Back