NY Times' 'Corner Office' Features Angie Hicks '95
June 24, 2012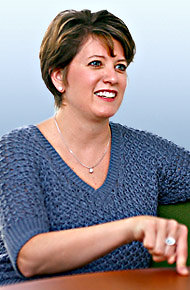 "I started Angie's List right out of college, so I was all of 22," Angie Hicks, co-founder and chief marketing officer of Angie's List and 1995 graduate of DePauw University, tells the New York Times. Featured in the "Corner Office" in the Sunday Times, Hicks explains, "I didn't really know what it was like to be an employee, let alone what it was like to be a good boss. Other than a couple of summer jobs when I was a kid, and an internship at a venture capital firm when I was in college, I didn't have much work experience. So I was very much kind of the doer. Sometimes the best doers can't make the transition to managers. I would say between that and my young age, it was probably a little rocky early on." (photo: Earl Wilson/NY Times)
Hicks, who was an economics major and Management Fellow at DePauw and earned an M.B.A. from Harvard Business School, tells the newspaper, "A lot of people I managed early on in different markets tended to be young college graduates. We used to have a motto around the office: 'We're not running the E.R.' It was just a reminder -- no one's going to die. You can get so absorbed in what you're doing, because there were always seven balls up in the air on any given day. That motto sticks around today -- take your work seriously, but don't take yourself too seriously.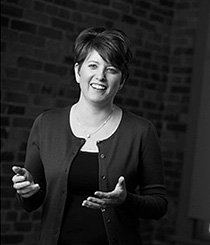 What we do is important, but let's make sure we can laugh at ourselves now and again."
She advises, "You have to create an environment where people are encouraged to get involved. Don't just be a bystander in your career. Get to know each other. Get involved. Because I'm a firm believer in the idea that if you're not having fun at your job, you should quit."
Access the complete interview by Adam Bryant -- headlined "Let Everyone Swim, but Make Sure You're in the Pool" -- at the Times' website (a subcription may be required).
In October 2009, Angie Hicks was honored with DePauw's Robert C. McDermond Medal for Excellence in Entrepreneurship.
In March, another Times article featured Hicks.
Back